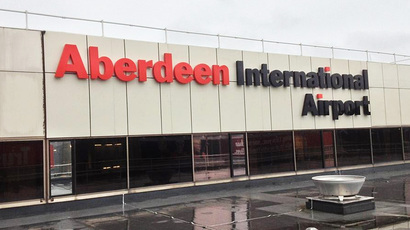 Flybe has issued travel advice for passengers after it confirmed the cancellations of its flight to and from Aberdeen until tomorrow morning.
The current amber weather warning in the Granite City means no flights will be operating until 10am.
A spokeswoman for the airline said: "Due to the adverse weather that is being experienced and forecasted over the next few days with the potential to impact travel across large parts of the UK, airports may either close temporarily or restrict the number of arriving and departing flights.
"Flybe has minimum acceptable weather conditions in which we can safely operate. Please be assured that we will be doing our best to ensure that flights operate as normal, taking into consideration any adverse weather conditions.
"The safety of our passengers and crew remains our number one priority at all times."
Passengers with flights on the airline should not travel to Aberdeen Airport if their take-off time is before 10am tomorrow.
Those requiring a hotel overnight tonight should make their own arrangements and can apply for a refund of any reasonable expenses incurred in respect of accommodation, meals and refreshments – excluding alcohol.
All other customers booked to fly with Flybe between today and tomorrow to and from other airports, excluding Aberdeen, Glasgow and Edinburgh, should continue to check-in as normal.
The airline is offering customers the option of rebooking a different flight within the next seven days at no charge to the same or a similar destination if their flight has been affected.
Passengers may also rebook flights for the same route for any future date if seats are still available at the same price originally paid.
They can also get a refund if they don't wish to re-book.
For bookings originally made via flybe.com, there is an online tool which will allow passengers to amend a booking within the next seven days, or to claim a refund if your flight has been cancelled.
Visit www.flybe.com/flight-info, key in your planned flight details, and the status of your flight will be displayed. There is then the option to re-book or claim a refund.
The airline's spokeswoman added: "Once again, we would apologise for any inconvenience that might result from the adverse weather.
"Please rest assured that we will always do whatever we can to get you to your destination as soon and as safely as possible."