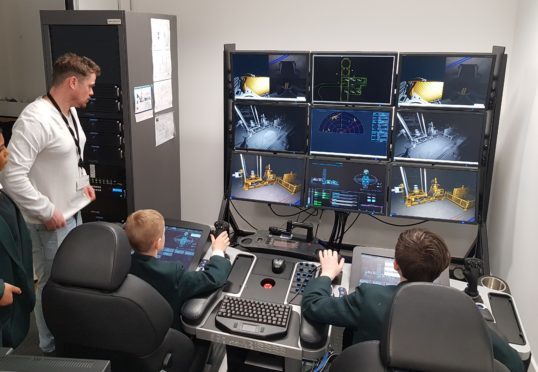 Pupils from an Aberdeen secondary school have received the chance to experience life underwater as part of a corporate education initiative.
ROVOP hosted the visit from eight Cults Academy senior pupils at its Westhill base.
The trip included the chance to pilot one of the Remote Operated Vehicles (ROVs) on a simulator as well as the youngsters being given a tour of the workshop and office.
In the process, they gained an appreciation of the oil and gas sector and how the ROVs, which are robots, carry out inspection tests and tasks under the water.
Deputy Head of Cults Academy, Brian Angus said: "We are delighted that we have a business partnership with ROVOP.
"It has helped broaden the aspirations and increase knowledge for the two groups of pupils who have now visited the company.
"The pupils have been able to access the skills, knowledge, experience and support of ROVOP staff who have been excellent with our pupils.
"The fact the pupils see a live workplace, are treated like the young workforce they are, and also get to experience "flying" an ROV has been invaluable.
"The experience has led to improved self-confidence and motivation for our pupils."
The children, who all have an interest in Science, Technology, Engineering and Mathematics subjects also heard about the apprenticeship and graduate schemes available through The ROVOP academy.
A company spokesman said: "We have very recently undergone an expansion, increasing our fleet by 50% as well as a funding boost of £56m.
"With the company's ambitious future growth plans, ROVOP realises the importance of investing in the future.
"This session was part of an effort to further develop our relationship with schools and engage pupils in new experiences."