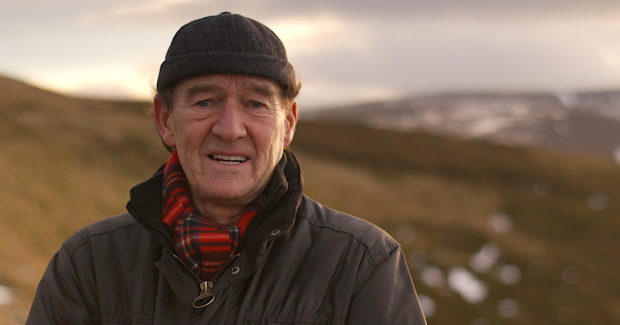 He is one of Scotland's most well-known actors.
But recently, David Hayman has ventured into other areas and has just finished investigating the thorny question of who owns Scotland's countryside and how such a valuable natural asset should be given the best protection.
The 70-year-old former star of such films as The Jackal, Hope and Glory, A Sense of Freedom and The Hawk, and long-running TV series Trial & Retribution, is convinced it is everybody's birthright to roam across the Scottish landscape.
Yet through his new documentary, The Battle for Scotland's Countryside, he shows the issue is not quite as clear-cut as some might imagine.
Mr Hayman talked to English multimillionaire, Paul Lister, who wants to create a game reserve, including the rewilding of wolves – for the first time in 300 years – over a large swathe of land at Alladale in the Highlands.
The scheme has sparked controversy, but Mr Lister is determination to bring it to fruition in the years ahead.
Vowing to work with the authorities to make his dream a reality, Mr Lister said: "I appreciate people want to come into the countryside and have free access to it, but this is something special.
"Just imagine people coming here to watch eagles, wolves, deer and other creatures in this wonderful setting. Can you see it being turned down if this was Disneyland?
"I am not obsessed with Alladale, but I want to make it sustainable and create something which will help the economy in the region."
The plan, which is opposed by such figures as author, broadcaster and authority on outdoor pursuits, Cameron McNeish, is contentious because it would fence off a part of one of the country's most picturesque locations.
In the documentary, Mr Hayman said he wanted to give both sides of the argument a fair hearing.
He added: "It's not my job to take sides, I have to do my best to be Everyman and be impartial when I am making these programmes.
"Paul was a fascinating character and it is obvious he believes in what he is trying to do and wants to move it forward. Cameron is equally passionate on the other side.
"It was one of the positive things about making this programme that we managed to talk to both sides. People can make up their own minds, but you can't doubt the genuine strength of feeeling which exists."
Mr Hayman also journeyed to the Finzean Estate in Aberdenshire, where he met head gamekeeper, Hedge Shand.
The latter refuses to accept the notion that such pursuits as hunting and shooting are reserved solely for the upper classes.
On the contrary, he said: "We have everybody coming here from builders to bankers to joiners to solicitors and they all enjoy themselves on the moors.
"A day's grouse shooting will cost between £250 and £500. If you want to do a pheasant shoot, it would be between £150 and £200."
Mr Hayman added: "The sporting estates have long polarised opinion, but, for some people, they are the best way of making money from poor land.
"Hedge was very interesting when I met him. He told me how he got his name – there weren't too many gamekeepers in the 1970s with an Afro haircut – and he spelled out his argument that a wide range of people regularly visit the estate.
"I still wasn't comfortable handling a gun, but it's not for me to decide what others can or can't do."
After talking to a diverse range of landowners, right-to-roamers, politicians and activists, Mr Hayman declared he was optimistic about the future of the Scottish countryside.
As he told the Press and Journal: "We need one more piece of legislation, because, at the moment, there is no cap on how much land any one individual can own.
"But the Land Reform (Scotland) Act of 2003 was a wonderful development, one of which the Scottish Parliament can be rightly proud, not least because we were able to bypass the House of Lords.
"While we were making the documentary, we talked to politicians from across the political divide and it was fascinating to learn that the Queen herself backed the right to roam and sent a letter when the act was being drawn up.
"There are also exciting plans for more community buy-outs, and the success of these schemes in places like Eigg [a similar proposal is being undertaken on Ulva, near Oban] has shown there is a new sense of community empowerment in Scotland, on the islands, in the country and in urban areas.
"I am all for that as somebody who marvels at the beauty of Scotland whenever I go round the country.
"In fact, that was one of the things about the documentary. It only lasts an hour. It could have lasted much longer."
The Battle for Scotland's Countryside will be shown tomorrow at 9pm on BBC One.