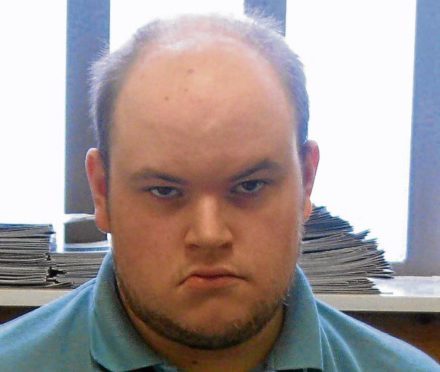 A "neo-Nazi" who collected components for potential bombs and kept a list of Scottish mosque addresses has been found guilty of planning terror attacks.
Connor Ward acquired hundreds of ball bearings, which could be used in pipe bombs and rocket tubes to fire projectiles.
The 25-year-old also had a cache of weapons, including a stun gun, hundreds of knuckle dusters, knives and metal bars.
Police first became award of Ward after he sparked a bomb scare in 2012 – when he threatened to blow himself and his dad up at an address in Banff.
He has been in and out of detention since then, and last night police revealed they have been keeping a close eye on him – meaning they could swoop before he could act on his terror plans.
Detective Chief Superintendent Gerry Mclean, of Police Scotland's organised crime and counter terrorism unit, said: "Following Ward's arrest a vast amount of material was seized by officers who invested a significant amount of time into quantifying the scale of Ward's interest in terrorism. Although he operated alone, the weapons, manuals and downloads he possessed had the potential to cause serious harm.
"While we may never know the full extent of Ward's intentions thanks to the early intervention of police, we do know that we cannot underestimate the dangerous nature of any behaviour or activity linked to terrorism. These acts are very rare, not least in the north-east of Scotland, and while concerted action takes place every day alongside our partners to protect the public, it is crucial that communities remain vigilant."
During the five-week trial at the High Court in Edinburgh, the jury heard police swooped on Ward's home in November 2014 after receiving a tip that he had bought a stun gun from abroad.
While searching the house, officers found he had acquired a mobile phone signal jamming device and a machine for picking up hidden bugs.
They also discovered that Ward had downloaded tens of thousands of documents from the internet on firearms and survival techniques, which also contained extreme right wing propaganda and military tactics.
A Google-doc style file containing the postal addresses of five Islamic places of worship in the Aberdeen area was also uncovered, along with a"Combat 18 British Mosque Address Book" Ward had started to compile.
The court heard how in the title page of the book, Ward had written: "This book is dedicated to all that follow Mohammed and the Islamic faith.
"You will all soon suffer your demise."
This prompted the police to fear Ward was planning terrorism attacks.
However, Ward – who has previously received pschiatric care – claimed he was suffering from mental illness at the time he downloaded the documents.
He told the court he had the files because he believed the world was going to end in 2012 and he wanted to survive the apocalypse.
But yesterday, jurors refused to believe his claims and found him guilty of breaching the Terrorism Act 2000 and Terrorism Act 2006.
The first charge which Ward was convicted of stated that between February 26 2011 and November 21 2014, he did "with the intention of committing acts of terrorism, engage in conduct in preparation of said acts".
The second charge stated that on the same date, Ward did "collect or make a record of information of a kind likely to be useful to a person committing or preparing an act of terrorism."
After the verdict, advocate depute Richard Goddard told the court about Ward's previous convictions.
As well as the bomb scare, Ward was locked up for 22 months in April 2015 for having a stun gun.
During that sentence, he was caught with an "improvised" knife and given another 18 months. Another four months were added for assaulting a fellow inmate.
Sentence was deferred until next month for background reports. The Crown is seeking a serious crime prevention order, which would limit Ward's ability to reoffend following his release.
Judge Lord Burns said: "In light of the verdict of the jury and your previous convictions, I am going to call for a report on the risk you pose to members of the public."
Last night Detective Inspector Stewart Drummond, who headed up the investigation locally, described it as a "very unusual set of circumstances".
He added: "We very much welcome the conviction at the High Court in Edinburgh.
"There is no place for such extremist views in Scotland or the north-east of Scotland and any similar type of activity will be dealt with.
"Scotland in general doesn't have the same issue with extreme views as other parts of the United Kingdom. But there is nothing at all in it to suggest it's part of any kind of wider issue or group operating in the north-east.
"Scotland-wide, any kind of information that comes in relation to terrorist activities or suspected activities is acted upon."