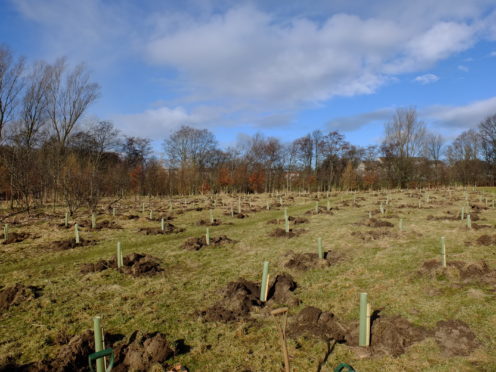 Popular green spaces in Aberdeen are set to become even more environmentally friendly with the creation of almost 5,000 new trees.
In an initiative, co-ordinated and delivered by the Dee Catchment Partnership and the River Dee Trust, 3,200 trees have been planted over four acres at Abbotswells and Inverdee, with an additional 1,600 to be planted later this week.
Following previous tree planting at the Inverdee site as part of Aberdeen City Council's Tree for Every Citizen scheme, the riverside spot is now home to a the new trees, thanks to the efforts of volunteers who spent a full day planting Oak, Birch, Wild Cherry, Holly, Scot's Pine and European Larch saplings.
Marina Piper, outreach officer for the Dee Catchment Partnership, said: "There were many benefits to planting at this site for a number of parties.
"We were delighted to organise the planting at the site because trees are vital to rivers and their catchments in so many ways.
"Rivers flowing through wooded catchments are cleaner, slower, better for wildlife and cause less flooding downstream during periods of heavy rain and run-off. They also improve air quality by filtering out harmful pollutants, provide oxygen, and help absorb traffic noise in built up areas.
"We're aware the area is locally popular for spring daffodils, but any bulbs which were disturbed by the tree planting will be in full bloom again next year. Walkers will find that paths have been created through the trees to provide a variety of routes in all seasons."
Anyone would like to volunteer with the River Dee Trust welcomes should e-mail Calum Hislop by contacting calum@riverdee.org