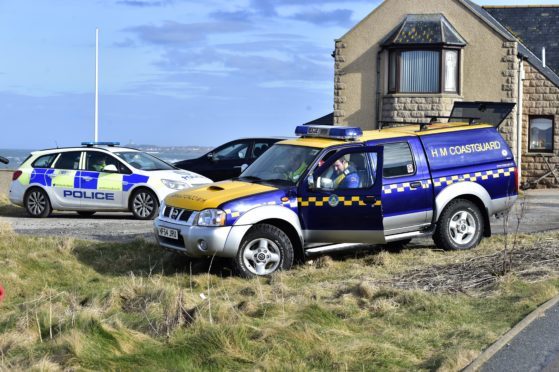 A north-east pensioner who raised the alarm after discovering what was thought to be a "bomb" on his local beach has spoken of his shock.
Former skipper Michael MacDonnell combs the coastline for driftwood whenever he can and on Tuesday stumbled across what he thought was his most explosive find ever.
The 72-year-old, who helps curate the Sandhaven's Meal Mill visitor centre, last night said he spotted the strange white object towards the end of his walk towards Pitullie.
He was in the process of trying to pick it up when it dawned on him that he could be in danger.
"It was the strangest thing I'd ever seen, he said.
"At first I thought it was a buoy, but it was too heavy to move. Then I saw a black circle on the back of it and I thought it could have been a bomb."
Mr MacDonnell's call to the police, shortly after 12pm, prompted a swift response from both officers and two Coastguard teams.
The road between Sandhaven and Rosehearty was closed for about seven hours as they awaited the arrival of specialist bomb disposal teams.
They stood down at about 10.30pm when it was determined that the device – understood to be a piece of waste from an oil rig or boat – was not dangerous.
Yesterday, Mr MacDonnell said it was better to be safe than sorry.
"You just never know with these type of things," he said.
"Whenever it's a decent day I'm out looking at the beach and in my time I haven't seen anything like that wash up.
"People wouldn't believe some of things I've found, but with the weight of that it could have been a bomb or drugs."
A spokeswoman for the police confirmed that an explosive ordinance disposal (EOD) team attended at Sandhaven on Tuesday night.
She said: "This item has now been examined by EOD and confirmed not to be ordnance. It posed no threat."