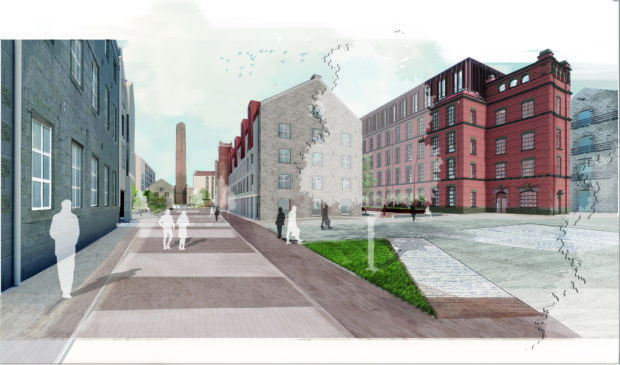 Business chiefs believe the £100million project to transform one of Aberdeen's most historic sites into an urban village could be a "catalyst" for improving the city centre as a place to live and work.
Developers Inhabit are preparing to submit a planning application to completely overhaul Broadford Works, which has been lying vacant since 2004.
The former industrial textile production site was once home to the largest collection of historically A-listed buildings in Scotland.
Inhabit is seeking to bring the old factories back to life by creating 460 homes, with accommodation for 430 students, shops and office spaces.
That plan would, however, require the hugely controversial partial demolition of the historic Grey Mill at the site – one of the last buildings of its kind in the world.
Finnies the Jeweller manager Stuart Milne, the chairman of the Greater George Street Trader's Association (GGSTA), said he believes the overall development would help boost trade in the area.
Mr Milne said: "Any investment that would revitalise a location that has been redundant for 14 years has got to be a good thing.
"As chairman of the GGSTA, I have to welcome any inward investment to our area of the city.
"I'm delighted that after all of these years something is finally happening to Broadford Works."
Adrian Watson, the chief executive of city centre business body Aberdeen Inspired, said: "These proposals are obviously very important to the continuing transformation of the city centre and of course we would welcome a plan of this scale and ambition.
"Something like this could be a real catalyst and benefit the city centre masterplan – I see it as a really positive move."
A spokesman for Inhabit said: "Our ambition for Broadford Works is to rejuvenate this historic site, which unfortunately has been left to deteriorate for years, to create a dynamic and inclusive development to the benefit of Aberdeen.
"We look forward to working with Stuart and other groups like the GGSTA to ensure the regeneration of Broadford Works preserves the built heritage of the site as much as possible and has a long-term positive impact on the residents and businesses in the local area."
The developers have argued it would be unsafe and unfeasible to retain the Grey Mill building.