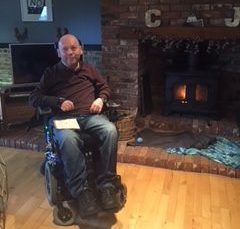 NHS Grampian has been forced to apologise to a family of a man who was left paralysed after care he received was found to be "unacceptable".
Neal Jackson, 50, worked as a senior corrosion engineer in Aberdeen until he developed a spinal cord condition.
But the Scottish Public Services Ombudsman (SPSO) found that a potential critical opportunity to drain an abscess that had formed around a metal plate in his back was missed.
Had it been dealt with earlier, Mr Jackson's outcome "may have been different", its investigation concluded.
He was left paralysed from his waist down and with only partial movement in his upper body.
It also found that a scan carried out by an out-sourced company was not of "satisfactory standard".
NHS Grampian wrote to apologise to Mr Jackson, and his sister Carolyn, 52, who is now her brother's sole carer.
The family however feel the apology is not enough and are pursuing a legal challenge against the board.
"My brother has gone from being a typical bachelor to now being cared for 24-7 by me, "said Ms Jackson.
"They failed to evacuate the abscess quick enough and instead left it for six days, by which time it was too late.
"Neal can no longer stand or walk and has spent months in Stoke Mandeville before he was discharged in 2016.
"We have had to sell his house in Aberdeen and move him closer to us as he has no one else to look after him."
Ms Jackson, from Canterbury, is now in the process of raising a civil action against NHS Grampian to compensate for her brother's inadequate treatment.
She said: "We have been trying to get someone to take on our case for two years, but now have finally found a solicitor."
The watchdog looked into Mr Jackson's treatment, which included various surgeries to treat spinal cord compression and a spinal abscess.
"Had the abscess been drained at that time we considered that the outcome may have been different," it concluded.
"We also found that Mr A's case could have been considered in a more holistic way."
While the scan was unsatisfactory, it concluded, that "was not identified as having impacted the outcome".
It rejected a complaint that Mr Jackson had been "discharged unreasonably" without a suitable home care package.
NHS Grampian said it was unable to comment due to the legal action being undertaken.