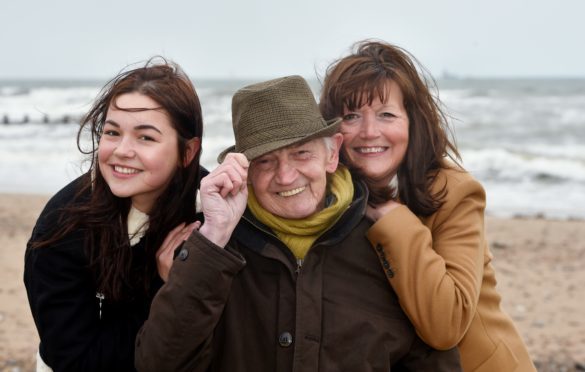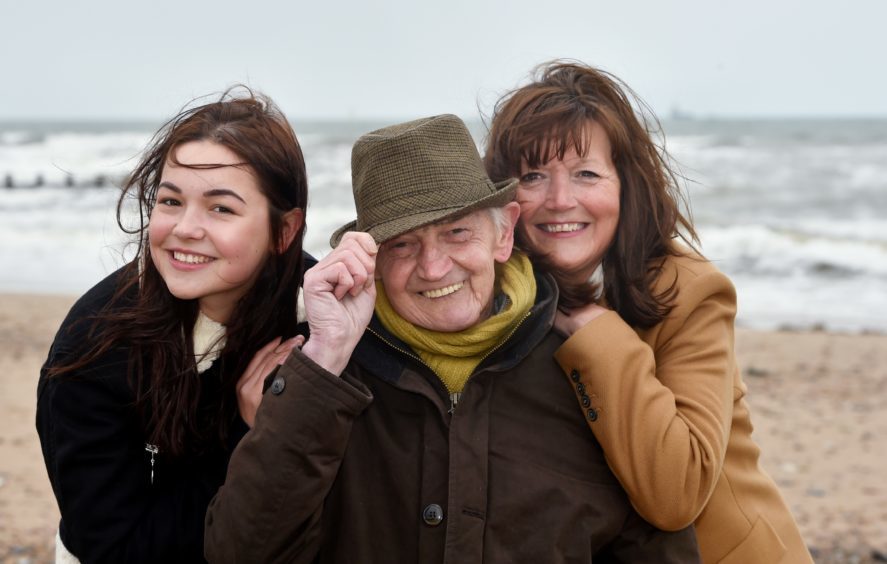 Some people stare at the wall and quietly fade away after a cancer diagnosis.
Others regard it as a challenge to be tackled with the same passion and positivity with which they have embraced the rest of their life.
There is no arguing in which category Joe McGunnigle belongs.
At 75, this is a fellow with a effervescence that would embarrass many people half his age.
The Aberdeen man was diagnosed with stage 4 head and neck cancer 18 months ago.
But event though he has endured a debilitating regime of radiotherapy and chemotherapy as the disease has spread, he is relishing the chance to appear in the Brave catwalk shows, organised by Friends of Anchor, at the Beach Ballroom next month.
A couple of things were immediately apparent upon visiting his house in the Granite City last week.
Firstly, Mr McGunnigle is totally devoted to his eight-year-old Jack Russell, Misty, who bounded about like a puppy as she bade us all a warm welcome.
Secondly, despite his illness forcing major changes to his appearance, speech and his ability to eat, he retains an infectious joie de vivre and refusal to be downcast.
He said: "I was told the cancer I had was very rare. The doctor at ARI hadn't seen a case of it in the last 20 years.
"I thought 'Well, I'm a rare specimen, so it had to be a rare cancer'.
At this point, he rose from his chair and sashayed along the carpet, demonstrating the dance moves he will display when he makes his modelling debut on May 11.
Then he sat himself down on the sofa next to his granddaughter, Cassie, and his daughter, Karen – who had secretly nominated him for Brave – and began talking about his love of Scottish football.
"I don't suppose there are too many people around these days who have watched the Scots at five different World Cups, but I have seen them play in more than 50 countries," he said.
"I was in Germany in 1974, Spain in 1982, Mexico in 1986, Italy in 1990 and France in 1998.
"It's a little bit of a shame that we haven't reached the finals of the tournament since, but hope springs eternal.
"Even after I had gone through my surgery,I managed to travel over to Slovenia for a World Cup qualifier in 2017.
"And I still meet up with a few of my friends at the Pittodrie Bar and we have a laugh together.
"I usually talk in Doric, and, just before surgery, my consultant joked that he would give me a nice English accent. I said 'dinnae ye dare dae that."
Mr McGunnigle has a plethora of these stories.
"I suppose I have always been a bit of an extrovert and I knew I was destined to be a model one day," he said.
Then, in the next breath, he added: "When I found out I wouldn't be able to eat through my mouth any more, do you know what my last meal was? A fish supper at the Ashvale!"
He realises he will have to undergo another gruelling session of chemotherapy, on a 24-hour-a-day basis, in the weeks ahead, prior to participating in Brave.
And he has nothing but admiration for the medical staff who have assisted him on his journey.
He said: "The kindness and support of all the ARI and Anchor Unit staff is making a tough time a wee bit easier.
"And with the help and care from these amazing people and my loving family, I am still enjoying life to the full."
Mr McGunnigle has suffered plenty of slings and arrows in recent times, but this redoubtable customer seems eternally young at heart, not least because of Misty.
"She is something else, she is totally devoted to me, and whenever I come home from the hospital, she always rushes towards the door and she is beside herself with excitement.
"But there again, so am I."
If you would like to contribute to Mr McGunnigle's JustGiving charity fundraising page, it can be found at
https://mydonate.bt.com/fundraisers/joemcgunnigle
.