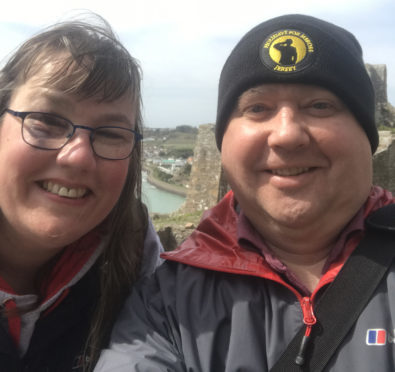 A north-east man has praised a charity that offers holidays to former military personnel for helping him battle his post-traumatic stress disorder.
Chris Buswell from Boddam near Peterhead served as a nurse in the Army's medical corp and now struggles daily with the condition.
The 48-year-old and his wife Karla, who was also a nurse in the services, have, however, been enjoying a getaway from their troubles.
They managed to secure a break in Jersey with Holidays for Heroes, which was established by Dawn and Richard Woodhouse in 2008 to offer getaways for injured veterans and has since provided more than 2,200 breaks to veterans.
Mr Buswell, who will return from his holiday today, said the trip to the Channel Islands had helped him in his fight against PTSD.
He said: "This has been a nice break and good to get away from it all.
"It definitely will aid my recovery because it is nice not to have any responsibilities or worries
"I don't know how to describe it but it is just like getting a nice piece of an oasis and calmness.
"It's been really nice to have everybody look after me for a change.
"We came here last Saturday and the charity pay for everything. They pay for your flight, the transfers to your hotel and all the food.
"Former military men and women drive you around the island, so we have been to castles, the war tunnels and lots of German bunkers and fortifications."
Holidays for Heroes Jersey co-founder Richard Woodhouse said he was "pleased" to hear the couple were having a good time.
He said: "We are very pleased that they are enjoying themselves.
"We booked in 308 guests this year
"We always tell our incoming guests that while we cannot guarantee the weather, we can guarantee a warm welcome.
"The people of Jersey have the most amazing respect for past and present members of the armed forces and we think that goes all the way back to five years of Nazi occupation during World War II."