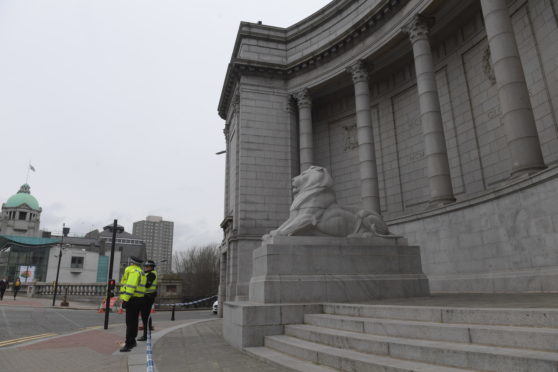 A young woman suffered severe head injuries after falling from the Aberdeen City war memorial in the early hours of yesterday morning.
Police were called to the granite lion outside Cowdray Hall around 2.15am and 2.30am after receiving reports that a 20-year-old had plunged from the well-known monument.
The incident sparked calls for greater protection to be given to the tribute to the city's war dead against a growing "tradition" of climbing onto it.
Councillor Martin Greig said: "It's very worrying to hear that somebody has been seriously injured after falling from the lion, and I wish this person a speedy recovery.
"The lion is a war memorial, a tribute to those who have served our country – so it deserves to be treated with care and respect.
"There seems to be somewhat of a tradition of people climbing on top of the lion, but possibly more needs to be done to protect this important landmark so that it is accorded the dignity it deserves – and to try and prevent such an accident occurring again in the future.
"The words To Our Glorious Dead are very high up on the wall, so perhaps another plaque at a more visible, pedestrian level could be effective."
George Street and Harbour councillor Ryan Houghton, who has served in the RAF for seven years, said: "This was a horrible accident, and I hope she recovers fully.
"Unfortunately, this is not the first time that people have been spotted climbing the memorial – in the last week I've seen others climbing on top of it, it's not really the place.
"Our war memorials are very important, and they carry a lot of significance for many people in Aberdeen, so climbing the lion is not only unsafe, it is disrespectful."
A police spokeswoman said: "We can confirm that officers are making inquiries into an incident which occurred between 2.15am and 2.30am on Friday April 6, where a 20-year-old female sustained a head injury due to an apparent fall at the Aberdeen City War Memorial at Schoolhill in Aberdeen.
"She was subsequently taken to Aberdeen Royal Infirmary.
"Anyone with information about this incident is asked to contact Police Scotland on 101."