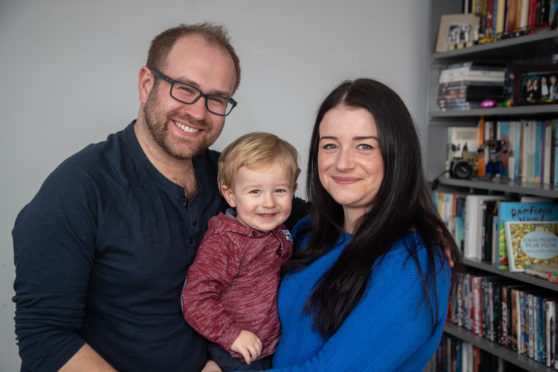 An Aberdeen couple whose lives were torn apart following a car crash are backing a brain injury charity's calls to make changes to disability benefits.
Andy Irvine and his partner Cheryl Mainland believe "lack of understand" of head injuries can make traumatic circumstances even more stressful.
Mr Irvine was hit by a car while walking home from a night out with friends in Aberdeen in 2015 and placed in a coma.
He had suffered a broken pelvis, broken ribs, bruised lungs and a severe leg injury, but his most serious injury was swelling and bleeding on the brain.
When he came out of the coma three weeks later the 37 year-old contract engineer had to re-learn basic skills like how to speak again and how to walk up stairs.
Together with his partner Cheryl, a shopping centre manager, he is now supporting brain injury charity Headway's Right First Time campaign, which is calling on the Government to make changes to disability benefits assessments they say fail a large number of brain injury survivors and their families.
Ms Mainland said a "lack of understanding" of head injuries by the Department for Work and Pensions made the situation more stressful.
She said: "Andy wasn't ready to properly return to his work but the DWP said he was capable of getting another job instead. We didn't know what to do.
"The best thing was for Andy to go back to work with familiar colleagues and familiar surroundings – rather than starting a job in a new company where he would need to learn new skills.
"During the face-to-face assessment, Andy was asked to fold a piece of paper in half and stand on one leg. These were not suitable tests and showed a lack of understanding about the complex nature of brain injury.
"We were asked whether Andy can cook a meal. Yes he can -but he might leave the gas on. People with brain injuries have good days and bad days, good moments and bad moments.
"You've got no idea how the brain injury will affect them from one day to the next and it's very difficult to convey that through the assessment process."
Mr Irvine has now returned to work and his employers backed him with a phased return into a new administrative role.
Peter McCabe, chief executive of Headway, said: "You cannot underestimate the hardship and deep distress that can be caused to brain injury survivors and their families who are incorrectly assessed for disability benefits.
"Emotionally and financially they feel that their lives have been put on hold with many left feeling that their brain injury has just been ignored or completely misunderstood.
"With help from the people we support, our Right First Time campaign highlights what the government should address to ensure brain injury survivors get the decision and support they deserve."