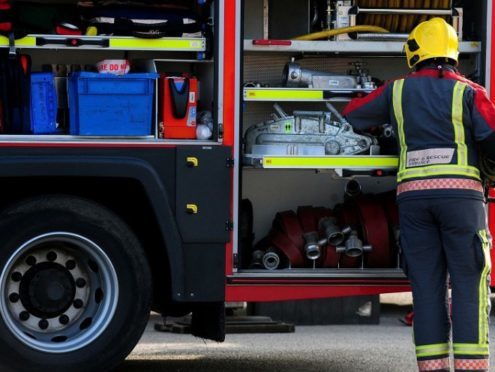 Homes had to be abandoned yesterday after a fire through a block of flats.
The properties in the city's Torry area were deemed too dangerous to return to after they were evacuated shortly after 7.30am.
A cordon was erected around the block, in Victoria Road, with senior fire officers concerned debris could fall into the street.
They had to find emergency accommodation for a number of council tenants and provide support to other residents.
All could be out of their homes for days.
A joint fire and police investigation is now under way to establish the cause of the incident.
The blaze caused considerable disruption for much of the day, with roads closed and public transport diverted, causing delays to bus services.
Multiple fire units and as many as 20 firefighters were required to bring the blaze under control.
Crews responded to reports of a fire in the roof space of a block of flats as most residents were just waking.
The eight flats were swiftly evacuated and all occupants accounted for as hose-jets were turned on the fire.
Extinguishing the blaze proved problematic, however, and firefighters had to scale an aerial ladder to strip away some of the property's roof tiles and gain access to the flames.
It was over six hours before firefighters left Victoria Road.
A fire service spokesman said: "Crews carried out a full search of the building and ensured all persons were safely accounted for.
"Firefighters wearing breathing apparatus extinguished the flames and crews left the scene at 1.43pm after ensuring the area was safe.
"A joint investigation with the police will take place in due course."
In the wake of the fire, it became clear the occupants could not return right away, prompting Aberdeen City Council to take action.
A spokeswoman said: "Of the eight flats, five are council owned and three privately owned.
"The council arranged alternative accommodation for the council tenants and provided advice to the residents of the privately owned properties.
"Following a request from the fire service, council staff also erected fencing on the pavement and road due to the possibility of falling slates."
Work will have to take place to make the building safe and watertight.
Temporary parking restrictions have also been put in place, preventing stopping on a significant stretch of Victoria Road.
At present they are to remain in place until 6pm on Monday.