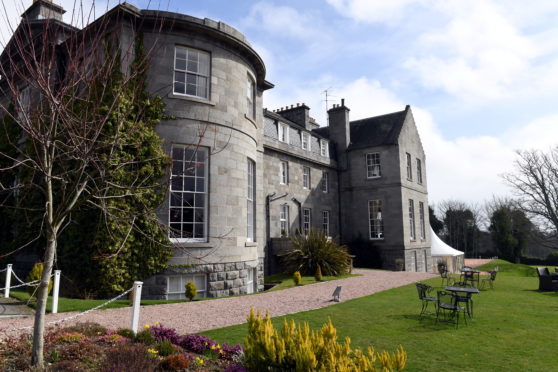 The hotel has played host to such stars as Oasis and Van Morrison, Cliff Richard and Ronnie Corbett and Hollywood actor Charlton Heston.
But there was no looking back in anger yesterday when a group of former staff and guests at Raemoir House, near Banchory, met to celebrate the property's 75th anniversary.
The residence, which was a place of sanctuary for Londoners during the latter years of World War II, has welcomed everybody from royalty to rock stars and politicians since it first opened its doors in 1943.
And it earned the reputation of being the "Claridge's of the North" among visitors in a reference to the famous hotel in Mayfair.
Aileen Black was among those who invested a lot of sweat and toil in a variety of roles at Raemoir from 1957 to 1964.
Yet the sprightly 81-year-old remains convinced it is a treasured place in the heart of Royal Deeside.
She said: "I did everything during my time here and although there was a lot of physical work, you didn't mind. It was rock 'n' roll when you were young.
"We had plenty of well-known people staying and I remember [comedian] Jimmy Logan and [ragtime pianist] Winifred Attwell. The theatre pack would also come over from Aberdeen and it was exciting.
"Every Friday night, we used to go to dances in Kingswells, Inchmarlo and other places, but you were always glad to get back to Raemoir. It hasn't changed either."
Another of the party at yesterday's reunion will never forget one cherished memory of 1953.
Eunice Reid, 77, said: "My mother used to be the head waitress and I got used to being in and out of the house.
"One of the most memorable things was when I watched the Coronation here in 1953 and I was glued to the television. I was still at school and we talked about nothing else for the next few days."
Mhairi Morriss, who assists with the property's marketing and events, is helping the current owners, Neil and Julie Rae, unearth memorabilia and photographs of former guests and employees for a book project.
She said: "We would like to talk to people who may have memories and stories from years gone by and it is good to see so many here today.
"I think of Raemoir as a grand old lady who takes care of whoever walks through her doors.
"But, unfortunately, she is not one for gossip, and keeps the secrets of those within to herself."
Anyone who would like to contribute can email marketing@raemoir.com.