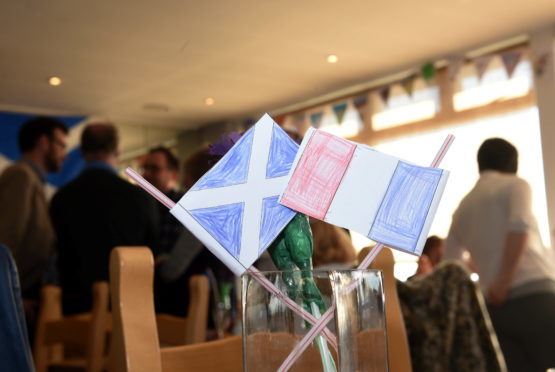 An agreement will be signed next month to mark the new "French connection" between Stonehaven and Acheres, a suburb of Paris.
As the town's first twinning agreement, it is hoped the relationship will help grow cultural, business and sporting ties as well as leading to a tourism boost between the two areas.
To celebrate the forthcoming signing, a French breakfast briefing was held in the North-east seaside town yesterday with a live link-up to the Acheres delegates who were in Paris, pictured with the Arc de Triomphe as a backdrop.
Led by Stonehaven's Community Council's chairman Phil Mills-Bishop, a delegation of five will travel to Acheres next month to sign the concordat agreement to officially link the communities. He said: "It is a fantastic opportunity for Stonehaven and hopefully will create a doorway to the rest of the Mearns for our French counterparts.
"We will meet Mayor Marc Honore and sign the twinning agreement on May 20.
"It is scheduled to take place during a weekend religious festival held in Acheres, called the Fete De La Pentecote which is a bit like our Stonehaven Feein' Market – so it is a bit familiar for us."
The twinning agreement came about when the deputy mayoress of Acheres visited the town with her husband whilst on holiday and visited the tourist office in Stonehaven, purely by chance.
Secretary for Culture, Tourism and External Affairs, Fiona Hyslop MSP sent a letter of backing to the town ahead of the delegate's trip and said: "France and Scotland boast cultural, economic and diplomatic bonds dating back centuries.
"The Scottish Government is committed to building on these deep historic links further and I congratulate the signing of the twinning charter between Stonehaven and Acheres.
"Initiatives developed locally are as important as the partnerships we are building at a government level."
Stonehaven resident David Nicol, 63, is one of the delegates travelling to Paris next month, he said: "I used to work in France quite a lot and so already have some French connections and speak a little French – so I was invited to come along and help.
"I think the opportunity to link with somewhere culturally different is fantastic."
Kincardine and Mearns area manager Willie Munro also congratulated the town for its forward thinking and said: "All credit to the community council for forging these links – there is great potential in it. It's important that the rest of the community rallies around it so that it's sustainable in the long term.
"With direct flights to Paris, let's hope it unlocks this area to a larger audience."