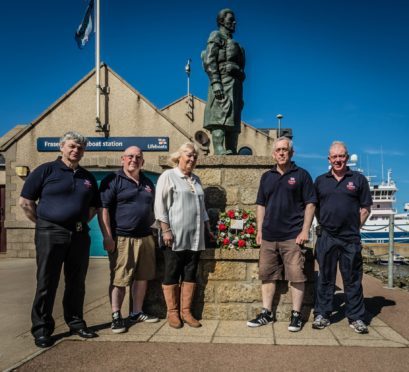 Relatives of a crewman aboard a north-east town's lifeboat when it was lost at sea almost 100 years ago have made a donation to the charity.
The Lady Rothes boat capsized in 1919 while on service.
The boat had been called out to Fraserburgh Bay on April 28 to assist the Admiralty trawler Eminent.
Coxswain Andrew Noble and second coxswain Andrew Farquhar died in the incident.
On Saturday, descendants of Mr Noble visited the current crew to present them with a £1,000 donation to continue their work saving lives at sea.
Anne Mould, Mr Noble's great, great granddaughter, presented the cheque alongside her husband, Martin.
They, alongside the Caledonian Society in Sheffield, where the family now lives, raised the cash by hosting several events including a Burns Supper.
A spokesman said: "Anne, formerly of Inverallochy, now lives in Sheffield and was the president of the Caledonian Society from 2016 to 2017.
"Over a year they have several fundraising events.
"The money raised is split equally between a local charity and another charity. The most recent year was split with Riding for the Disabled and RNLI Fraserburgh."
He added that the station was grateful for the "fantastic effort" and offered everyone involved a "huge" thanks.
Descendants of Mr Noble have used the station in Fraserburgh as a meeting place in recent years.
In 2016, several of his kin visited the port to meet for the first time.
Mr Noble and his wife, Hellen, had 10 children who survived infancy – several of whom had large families themselves.
Today a memorial statue stands outside the station in honour of Mr Noble and every crewman who has given their life in service to the charity.
It is inscribed: "Greater love hath no man than this, that he lay down his life for his fellow man."