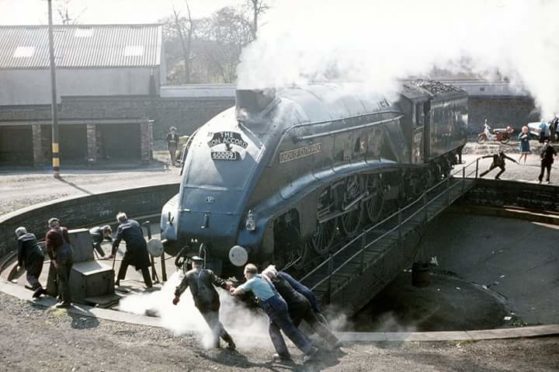 The sight of steam trains travelling in and out of Aberdeen may be a distant memory.
But a heritage group has devised ambitious plans for a new service to the city after a refurbished turntable was installed at Ferryhill yesterday.
The structure was removed from site in September 2016 and has been under repair at eBlast and RIM Fabrication in Kintore.
An initial inspection revealed that major parts of the turntable had suffered irreversible corrosion damage and about one third of both ends had to be replaced during the £86,000 revamp.
The Ferryhill Railway Heritage Trust, which has overseen the redevelopment of the site, now believes its return could spark a major boost to the local tourist economy by allowing steam charter trains to and from Aberdeen.
Jon Tyler, the chairman of the organisation is among those at the forefront of what he described as "exciting" new plans to commence as early as 2019.
He said: "We are looking to run up to four services next year and there is massive scope for attracting tourists to Aberdeen in the future.
"This installation of the turntable opens up all sorts of opportunities for the north east, given the interest there is in this project."
The turntable, which was originally constructed in 1906 for the Caledonian Railway, was built in Ipswich by Ramsomes and Rapier.
It is 70ft long and will be capable of turning locomotives of up to 170 tonnes.
The project has been funded by The Railway Heritage Trust, Historic Environment Scotland and the Association for Industrial Archaeology.
And Mr Tyler added that once the remaining work, including the creation of a footpath, has been completed, the trust will be able to welcome steam charter trains to Aberdeen.