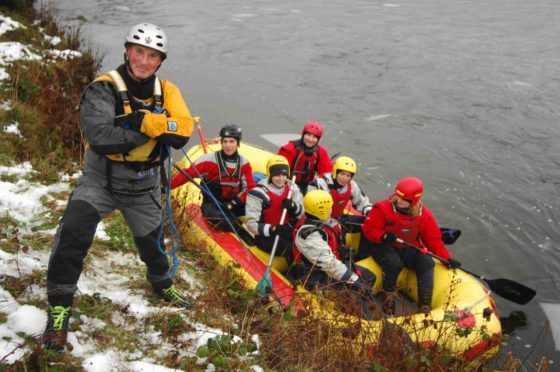 As a keen canoeist, Jonathan Kitching is accustomed to dealing with life's ebbs and flows.
And there is even a touch of the Gene Kellys in his attitude to tackling adversity: "Life isn't about waiting for the storm to pass, but learning to dance in the rain."
So it's perhaps appropriate that the 59-year-old council worker from Aboyne is moving upstream just now as he prepares for his participation in Brave next month.
Mr Kitching admits he will be very much out of his comfort zone as he rehearses for catwalk duty, but he is a tenacious character, somebody who stayed at work with the local authority while he was receiving chemotherapy for myeloma.
Nor has he allowed the fact his cancer – of the bone marrow – currently has no cure to deflate his spirits or dampen his enthusiasm for life, both at work and at home with wife, Dale, and children, Isla, 20, and Calum, 18.
Instead, he maintains the philosophy he has been afforded a second chance and intends to grab it with both hands.
As he said: "Originally, it was devastating when I got the diagnosis, but there was a sense I was expecting to hear something bad, so we got on with it.
"Right from the start, the city council was very good about the whole situation. I was on and off work from the summer of 2015 for a year, but they helped and supported me all the way.
"And the level of care provided by the NHS at the ARI was terrific throughout everything. We need to do everything we can to fight for the NHS: it is absolutely precious.
"My cancer has been kept at bay thanks to ongoing chemo and a stem cell transplant a couple of years ago.
"However, I know it will come back, because this flavour always does, so I'll beat it off again, and again, or at least that is the plan. It is certainly in my interest for a cure for myeloma to be found from research.
"But I look on a lot of things differently now I am back at work. It's a good life and I am lucky to have it."
Mr Kitching has been bolstered by the backing of a range of different organisations, including Clan, Maggie's and Friends of Anchor.
He is still planning ahead and preparing for new challenges in the future.
When asked what message he would give to others facing a cancer diagnosis, Mr Kitching said: "At some point in your life, one out of two people will be affected by cancer. It is all around us.
"But there are so many treatments now which weren't there in the past. And it's a wonderful world, so make the most of it."
There simply remains for him to embark on the catwalk trail and he is honest about that prospect.
He said: "This isn't my sort of thing, believe me. So there will be a lot of bravery involved as I show off my three outfits."
To support Mr Kitching's fundraising efforts, visit www.mydonate.bt.com/fundraisers/jonathankitching1