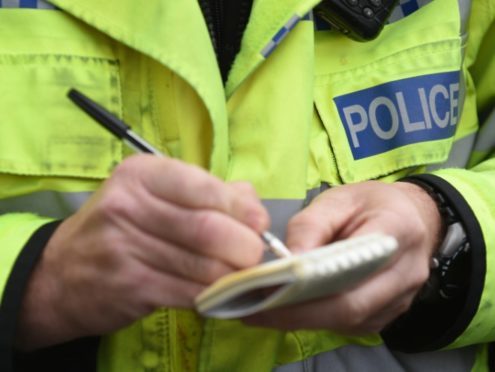 A car, antique jewellery, cash and two Tiffany piggy banks were stolen from two homes just three miles apart over the weekend.
The "brazen thieves" targeted the first property on North Deeside Road, Cults, stealing a black Audi A3.
They also snatched some "heirloom" jewellery – a distinctive pair of drop earrings with a blue stone and matching ring.
It is thought the break-in happened between 11.30am and 2.30pm on Sunday – shortly before another homeowner on Cranford Road, in the Mannofield area, discovered they had also been targeted.
The first victim, who did not want to be named, said: "We had been out watching our son play football and saw straight away the car was not in the drive when we came home.
"I never usually attend the games – but this was an important match so I went along.
"We were just shocked when we came back – completely shocked – the whole family is upset."
Along with the car – registration number SV10 ZDU – the thieves made off some treasured earrings and a matching ring.
"They belonged to my great-great-grandmother," said the owner. "I was going to give them to my daughter – it has just been an awful 24 hours."
On the same day, a resident of Cranford Road returned home at 3pm after a night away to discover her house had been raided.
The "shaken" mother-of-two said she was "gutted" when she walked into her house to find her cupboards "ransacked" and her front living-room window forced open.
She said: "They're so brazen to have come in through the front window – it's right on the street.
"They took my Omega watch, which was worth about £1,200 when I bought it and my kids Tiffany piggy banks.
"They both got them when they were born, each had around £100 in them.
"My six-year-old was very upset."
Police have appealed for witnesses and are also interested to hear from anyone who may have been in the Broomhill Road area on Friday night or Saturday morning following a sneak-in theft and another attempted house-breaking.
Detective Constable Graham Robertson said: "We are appealing to anyone who has any information in relation to these crimes to contact police.
"Housebreaking and the loss of personal possessions is extremely upsetting for individuals concerned, not to mention the inconvenience.
"We would urge anyone who saw anything suspicious in the areas where these crimes happened over the weekend to contact us on 101 or Crimestoppers on 0800 555 111 if you wish to remain anonymous."