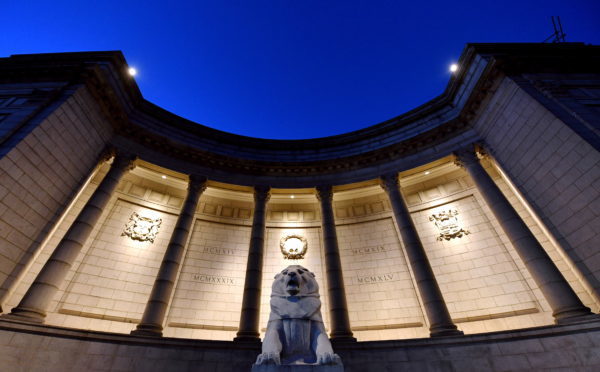 The Aberdeen City War Memorial has been illuminated once again following fears that the famous lion could be left in the dark for months.
Concerns were raised last week that the lights surrounding the iconic granite sculpture and pillars outside Cowdray Hall on Schoolhill were shut off due to concerns over a planning issue.
New LED lights were installed at the site as part of the £30million redevelopment of the Art Gallery and Cowdray Hall.
War memorial lion could be left in the dark due to 'bizarre' planning dispute
However, they had been switched off since they were installed because of confusion regarding planning permission and listed building consent not being in place.
But as of Saturday evening, the city's historic memorial to those who died fighting for their country have been lit up at night once more.
Michael Hutchison, councillor for the George Street and Harbour ward, had previously raised fears that the "tradition" of climbing the lion could be encouraged by a lack of proper lighting.
Mr Hutchison said: "I'm very pleased to see a swift resolution has been found here.
"The new lighting is simple, respectful and makes it clear that this is the city's war memorial.
"It's fitting that such a poignant tribute to our fallen is illuminated by such a stunning lighting feature."
Police were called to the Schoolhill memorial last month after a 20-year-old woman fell from the lion.
She was taken to hospital and suffered serious head injuries following the incident, which took place shortly after 2am on April 6.
A spokesman for Aberdeen City Council said: "The exterior lighting scheme for the war memorial is part of the redevelopment of the Art Gallery and Cowdray Hall, and the lights have now been turned on as part of the project."
The granite lion was carved from silver-grey granite from Kemnay, and designed by Aberdeen sculptor William Macmillan.
King George V unveiled it to the public for the first time on September 29, 1925 when he opened the Cowdray Hall and the nearby Art Gallery.
The memorial is used every November as part of Remembrance Sunday events.