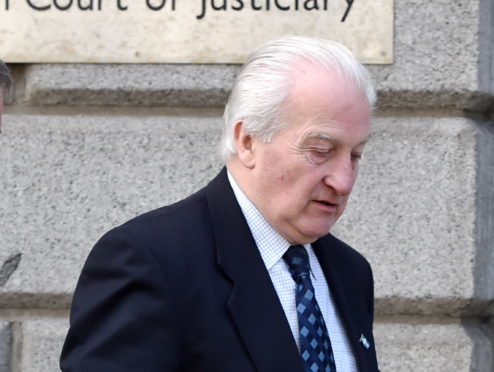 A disgraced former Shetland councillor convicted of the historical sexual abuse of two girls and a woman has been jailed for 18 months today.
The 74-year-old businessman and former independent councillor, Robert Henderson, was convicted of historic sexual abuse on the Shetland island of Yell between 1974 and 1993.
His defence counsel David Moggach said: "This has been for a man of his standing a quite spectacular fall from grace, especially in a small community where everyone knows each other."
At the High Court in Glasgow judge Lord Kinclaven told Henderson: "Your victims said they felt 'sick, embarrassed, shocked and annoyed.'"
The judge said that the most serious charge of rape, which brought the trial into the High Court, had been found not proven against Henderson, but said the remaining charges were serious and added: "I've given it very careful consideration and I'm satisfied that there is no alternative to a custodial sentence.
"The offences cover a significant period of time and the court requires to mark the seriousness of your offending."
Henderson, from Yell, Shetland, was placed on the sex offenders register.
The jury in the trial at the High Court in Aberdeen found the rape charge against Henderson not proven by a majority.
But, he was convicted of sexually abusing two woman, now aged 56 and 54, when they were children in the 1970s.
Henderson's first victim said it began when she was 11 and continued until she was 16. The second said it happened "six or eight times" at a "conservative estimate", when she was aged between 12 and 14.
He was also found guilty of sexually assaulting one of his schoolgirl victim's when she was an adult.
When the woman was aged between 29 and 31, he assaulted her by touching her breasts.
Henderson, who continues to  maintain his innocence, was elected as a Shetland councillor in 2007 and 2012 as an independent before standing down at the last election.
Mr Moggach had urged Lord Kinclaven to impose a non-custodial sentence on Henderson saying he was assessed as a low risk of re-offending.
He added: "He is a first offender and the last offence he was convicted of  was in 1993. One of Mr Henderson's complainers said that this has not really had any effect on her as an adult and there isn't  evidence of psychological or traumatic distress.
"He is married and retired. He was a successful businessman and someone who did a great deal to benefit the local community.
"His position remains the same, he does not accept he did this."
Lord Kinclaven was handed nine testimonials on Henderson's behalf.
An NSPCC spokesperson said: "Abuse ruins childhoods and Henderson's appalling actions blighted his victims' lives into adulthood.
"It is entirely right that he has finally faced the consequences of his action and is now behind bars.
"This case shows once again that it is never too late for survivors of abuse to come forward and seek justice for what they endured as well as to receive the help and support they need."
As Henderson was led away to the cells to begin his sentence he showed no emotion.