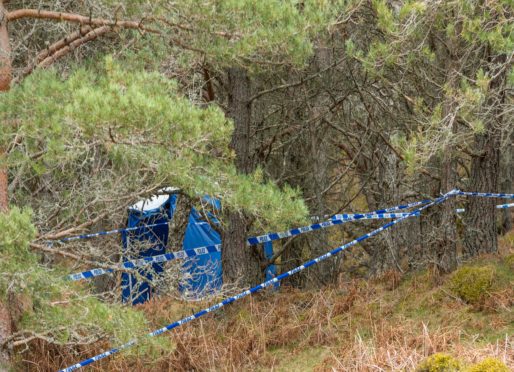 Mystery surrounds the discovery of human remains discovered in woodland on the outskirts of Ballater last week.
Police launched an investigation after a member of the public made the discovery at Invercauld Estate on Friday afternoon.
Officers carried out examinations of the area after turning up to the spot approximately half a mile from the road.
The discovery sparked speculation with some local residents believing that it could be the body of a missing person who vanished in the Ballater area more than a decade ago.
Police believe the remains have been at the site for a "number of years".
Deeside SNP councillor Geva Blackett was shocked by the discovery. She said: "I hope that the police manage to identify the person soon so that any relatives' minds can be put at rest."
A member of the public informed police after coming across the remains shortly before 1pm on Friday.
Several police cars arrived at the scene and officers sealed off an area around the body while forensic teams carry out their investigations.
Last night a police spokesman said there were no further updates and said they expected to be on site for a "few days".
He added: "We received a call following the discovery of some human remains in the Ballater area by a member of the public.
"The area is in woodlands just off the A93, near to the junction of the A939 and is not easily accessible.
"The remains have been there for a number of years and inquiries remain ongoing to establish the identity of the deceased."
Invercauld Estate is based in the Cairngorms National Park in Royal Deeside.
It is known for its spectacular scenery and is popular with tourists and fishermen travelling to the area to stay close to the River Dee.