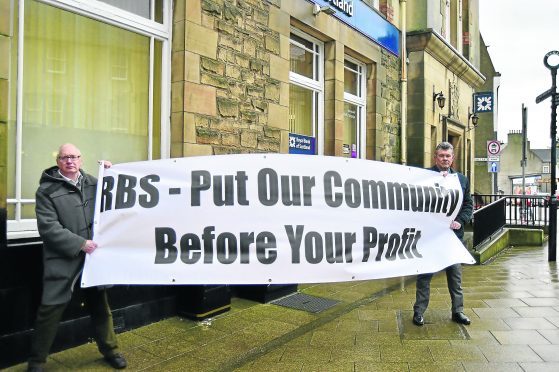 RBS chief executive Ross McEwan has been accused of showing "contempt" for customers after brushing off MPs' appeals to reconsider closures.
Politicians from every party urged bank bosses to reconsider axeing services across the north and north east but those appeals fell on deaf ears.
Far from agreeing to halt the closure of branches in Wick, Aviemore, Nairn, Grantown on Spey, Banff, Turriff, Dyce, Bridge of Don, Ellon and Huntly, he confirmed they will be cut and also left the door open for fresh rounds of closures in just 18 months.
Mr McEwan, who reportedly earns nearly £4 million a year, said the changes proposed had to go ahead.
And he also indicated branches at Castlebay on Barra, Beauly, Kyle, Tongue and Inverary – given a stay of execution until the end of the year – could still close after reviews are carried out.
Appearing before Westminster's Scottish affairs committee, Mr McEwan said: "We are re-shaping this bank.
"I understand the process of change is very hard but we are having to make these changes.
"We are closing a number of branches and that will go ahead.
"We have said we will review 10 and we will seriously review those 10 but we need to push this organisation forward.
"Whenever you make a large change you need time to embed.
"That's why we have said that through to 2020 we won't be doing any more reviews."
Committee chairman Pete Wishart said he felt RBS bosses were refusing to listen and only paying lip service to the 10 branches with a temporary reprieve.
"It was an immensely frustrating and disappointing session once again with RBS," he said. "It was cold comfort for the vast range of communities that are going to be hit by these closures.
"I think it showed a contempt for their customer base, designing technological features when all their customers want is to go down to their local branch.
"My sense is these 10 branches due to be reviewed are just being set up to fail because they have no interest in saving them."
Unite the Union officer Lyn Turner said he was outraged at Mr McEwan's "exercise in evasion" over nearly 230 redundancies due to the closures.
"The chief executive today tried to defend the indefensible," he said.
"The bank trebled its profits to more than three quarters of a billion pounds in the first three months of this year but is still furiously resisting any block on closing 52 branches.
"RBS has abandoned all social responsibility for its customers, communities and staff, axing 52 branches and putting communities across Scotland to the sword in the name of profit.
"At the same time the senior executives of this state owned institution are wallowing in millions. RBS is morally bankrupt."
Banff and Buchan Conservative MP David Duguid said his constituents affected by RBS branch closures in Turriff and Banff "will have drawn little comfort" from Mr McEwan.
He said: "I am not sure that senior executives fully understand the difficulties that people in rural areas of the country can have in accessing banking services."