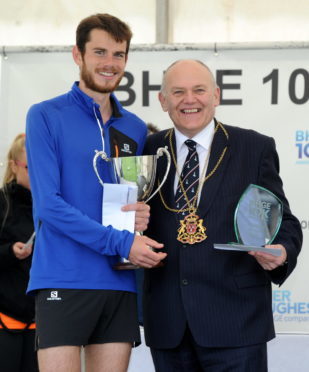 Thousands of runners crossed the finish line during the 31st Baker Hughes 10k running festival at the beach in Aberdeen yesterday.
Almost 3,000 runners pounded the streets to raise money for a host of charities during the annual event as hordes of spectators also gathered to cheer from the sidelines.
Runners taking part in the main 10k set off from the Beach Boulevard at 9.30am and followed a course through Footdee, up Beach Esplanade and back along King Street, Golf Road and Urquhart Road to finish near the Beach Ballroom.
There was also a 2k schools race, a wheelchair race and a short distance free family fun run.
First across the finish line in the men's 10k race was Robbie Simpson, who had a clear lead finishing with a chip time of 30 minutes and 59 seconds.
Darren Thom was second with a time of 33 minutes 16 seconds and Michael Carroll crossed the line in third place.
Meanwhile, Fiona Brian won the women's 10k race for a consecutive year with a time of 35 minutes and 11 seconds.
The Granite City's biggest and most popular road race has gone from strength to strength since it was first held 31 years ago.
The first 10k fun run took place in the city in 1987 to complement the Aberdeen Milk Marathon. In 1991, the 26-mile event fully gave way to a 10k road race.
Charity fundraisers were also encouraged to take part to help good causes, which remains the case today.
This year the official partner charities were Aberdeen Cyrenians, Alzheimer Scotland, Befriend a Child, Cash for Kids, Children 1st, CLAN Cancer Support, Inspire, Friends of Anchor and Home Start.
Aberdeen's Lord Provost Barney Crockett last night praised all the volunteers who had made the day such a "huge success" and added: "It sums up what's so good about Aberdeen and epitomises the great community spirit of our city. The weather was perfect for the runners – it was a huge success and must have raised a lot of money for worthy causes."