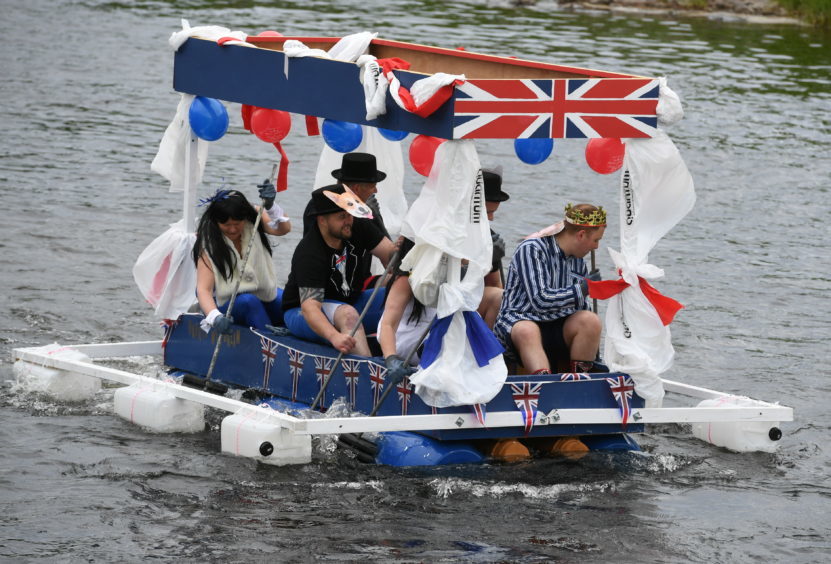 The Royal Wedding theme made a splash in Marykirk yesterday as intrepid fancy-dressed fundraisers set sail in homemade vessels along the North Esk river for the annual Raft Race.
One four-poster raft containing a wedding party was decked in red, white and blue to mark the occasion and scooped the Best Dressed Raft prize of the day – despite coming last over the finish line.
Hundreds of spectators came out to line the banks of the river yesterday to watch the 15 teams tackle the course.
The winning team were a Freddie Mercury and David Bowie tribute entitled Under Pressure who crossed the line in 32 minutes and 35 seconds.
Last night one of the event organisers, Kirstie Abbey said the day had been "brilliant" despite the "breezy" weather. She said: "It's been great to see all the community out enjoying this annual event – everyone has had a good laugh. "Some of the team efforts this year were amazing.
"I took part myself a few years ago – it's great fun. We don't have a village fete – so raft race day is our version.
"More and more people are getting involved, which is brilliant. We get some people who are a bit wary at first, but then they say they can't wait again for next year.
"We have raised £75,000 since 2000 – but I'm not sure how much we have for this year yet."
Proceeds from the event and sponsorship from the race entries will be shared between several charities including the Children's Hospice Association Scotland (CHAS), Carronhill School in Stonehaven and Mearns Allsorts who all entered teams.
The fun continued after the raft race with a fun day in the village which included a piano smashing competition, children's entertainment and an inflatable pub.
Live music from local musicians including Concrete Kingdom, Sandy Mathers and Montrose band Georgia Crawl also kept the crowds entertained.