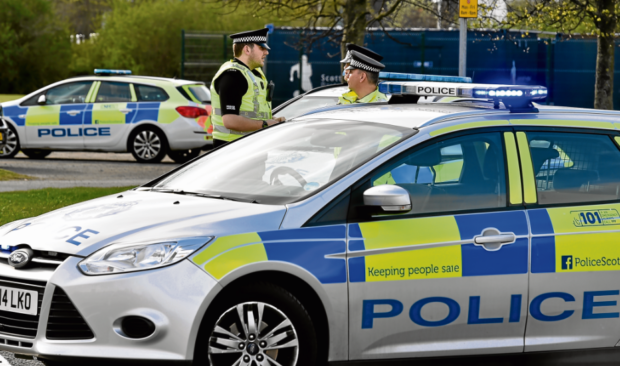 Police have charged seven people, including an 17-year-old girl, for theft and housebreaking crimes across the north-east.
Two people – an 18-year-old woman and a 22-year-old man – have been charged in connection with numerous alleged break-ins at businesses in Aberdeenshire, including the Ramsay Arms Hotel at Fettercairn and the Quayside Restaurant in Gourdon.
Police were made aware of the incidents in March and May and, following extensive inquiries, the pair from Banff were arrested and charged at the weekend in connection and are due to appear at Aberdeen Sheriff Court today.
In total they have been charged in connection with five alleged theft by housebreaking in the north-east, an alleged intended theft and an alleged attempted housebreaking.
A 52-year-old man is charged with four alleged thefts by housebreaking in the City-Centre, West End and Kittybrewster areas of Aberdeen earlier this month. Properties at Elmbank Terrace, Holburn Street, Union Grove and George Street were targeted.
Three people have also been charged in connection with an alleged theft by house-breaking in the Cummings Park Crescent area over the weekend whereby valuables worth a five-figure sum were reported stolen.
A 17-year-old female and two men aged 35 and 43, were subsequently arrested and charged in connection and are expected to appear at court today.
In addition, a 23-year-old man will appear at court at a later date in connection with three alleged theft by housebreaking and an attempted housebreaking last month in the West End of Aberdeen.
Homes at North Deeside Road, Crawford Road and Broomhill Road were targeted and an Audi S3 motor car that was reported stolen from one of the properties was later recovered in Glasgow.
Detective Sergeant Bruce Buntain said: "Acquisitive crimes can be devastating for the victims involved and they won't be tolerated. We take action every day to ensure the north-east remains one of the safest places to live in Scotland and, when the worst does happen, we do everything we can to ensure such crimes don't happen again.
"Generally, in some cases that are reported to Police the individuals involved force entry to gain access to your valuables, however we often find in others that targeted properties or vehicles have been left insecure."
He added: "Once again I would urge the public to ensure your valuables are always locked away and secure – a couple of minutes of ensuring all your doors are locked can help avoid any hassle and heartbreak further down the line.
"It's never too late to make your home security a priority to make it impossible for people to gain access to your valuables."
Suspicious activity can be reported to police by calling 999 if it is an emergency, on 101, or Crimestoppers on 0800 555111 if you would prefer to remain anonymous.