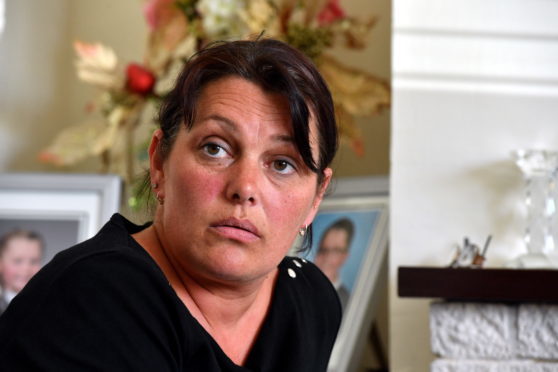 Residents in Huntly have been forced to buy bottled water and visit family and friends to bathe after supplies from the tap turned brown.
Scottish Water said it was dealing with an ongoing "discolouration" issue due to the presence of "naturally occurring manganese".
The company has made assurances the water is still safe to drink and said it expects the whole town to be clear-running again soon.
Nonetheless, many residents have been put off by the dark brown tinge and some have been buying water in bulk.
Within The Gordon Schools, kitchen staff had to boil water and supply pupils with bottled water while the discolouration has been present.
Yule Square resident Sarah Reid said she had received no communications from Scottish Water about the problem and had only heard through word of mouth that it was deemed safe to drink.
She said: "I've even been wary about washing my clothes in it as you don't really know what it contains. It might damage my machine. I've also heard of folk going to visit family miles away to have a bath."
On Bogie Street, Carolyn Hibbitt said she had been looking after one of her children who has chicken pox for the last week and had asked for advice on bathing to ease her symptoms.
She said: "A health professional advised it was probably best not to put her in the bath. I certainly don't want her to end up with infected chicken pox."
One family on Scott Drive have also been avoiding drinking the water, with Pauline Whyte describing her shower water as looking "as though I'd over done the fake tan".
She said: "We've been buying bottled water, though I don't really like having to buy all that plastic."
Last night the problem seemed to have been resolved in many homes and taps were once again running clear, though Scottish Water said its efforts to prevent the problem from reoccurring would continue.
A spokeswoman apologised for any inconvenience.
She said "An increase in naturally occurring manganese in the water source at Huntly is causing some customers to experience discoloured water. We would like to reassure those affected that this is not deemed to be a health risk and the water remains safe to drink and use for cooking and cleaning.
"We are working to resolve the issue and controlled flushing of the distribution system will be carried out over the coming days to reduce the build-up of any manganese deposits in the pipes. This should not cause any interruption of supply."