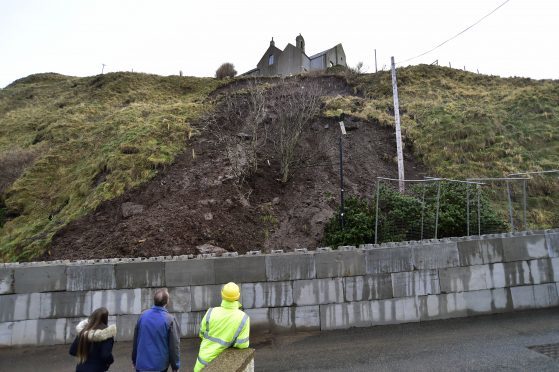 Work to secure a crumbling cliff face that blighted a north-east community throughout the winter is continuing.
Harbour Road is Gardenstown was closed following a landslip.
But it reopened at the end of last month with specialists fitting a traffic light system which turns red if any movement is detected on the landslip above.
Now around 30 of the 19 inch soil nails needed to keep the mud and rocks in place have been drilled into the affected area.
Drive to attract tourists to a tiny north-east village after a landslip battle
Council officials have said 120 of the spikes will be needed to keep a wire mesh in place.
A local authority spokesman has given an update on the work and said it is "progressing well."
He said: "Thirty of 120 soil nails have now been drilled into the face of the slope using the mobile drilling 'skid' rig, which will then be used to secure a mesh system over the affected area.
"Gardenstown is still accessible and ready to welcome visitors into the summer season as the work progresses.
"Soil nailing operations began on May 13 and are expected to take 23 working days to complete.
"Works for the remainder of the project are focussing on the installation of the remaining soil anchors."
For more information on the Gardenstown landslip works visit http://bit.ly/gardenstownslip