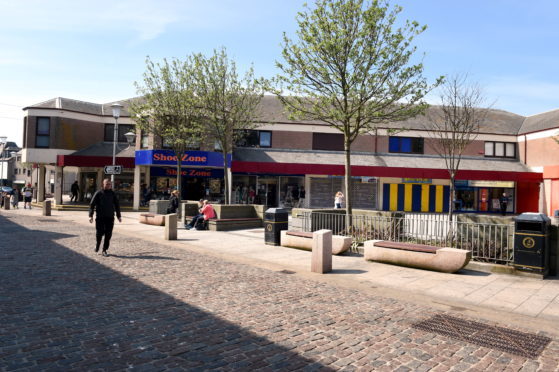 A group overseeing the transformation of a north-east town has been accused of "keeping things behind closed doors" by one of its own members.
The Peterhead Development Partnership is a group made up of councillors and local stakeholders, including business owners.
They have been tasked with finding ways to improve the town's economic performance through regeneration projects like efforts to transform Drummers Corner.
But one of its newest members has accused the body of a lack of communication over its plans.
North-east councillors kept in the dark about regeneration efforts
Peterhead South and Cruden councillor Stephen Calder, who joined the body earlier this month, wants increased scrutiny of the documents it produces.
It comes just a week after the town's councillors were shown initial drawings of the proposed redevelopment of the drum bandstand in Drummers Corner.
Mr Calder said: "I think they are stuck in that way of thinking way that they want to keep things behind closed doors.
"But that is not the point, it is not meant to be a decision-making body.
"People ask me about things going on in the town but there is no communication."
But chairman, Central Buchan councillor Norman Smith, has denied Mr Calder's accusations.
He said Mr Calder "knows exactly what is going on" because he is now part of the group.
Mr Smith said: "He is now part of the Peterhead Development Partnership.
"I am chairman of the group and we are making progress and I don't want to undo that.
"He came onto the group earlier this month in place of councillor Anne Allan for the next year.
"He knows exactly what is going on."
Last night, a council spokesman said there "no truth" that the partnership were trying to keep secrets.
He said all of the associated documents were available online.
The spokesman added: "There is no truth nor reasoning in the claim the Peterhead Development Partnership is keeping its work secret.
"The role of the partnership is to provide strategic direction for regeneration in Peterhead and to stimulate ideas and look for opportunities for joint working across the public, private and third sectors.
"This has and will continue to involve a lot of consultation with the local community, including councillors, to make sure we are meeting expectation.
"We know the community wants to see these projects delivered, because they have told us, and we intend to meet their expectations, giving updates as and when appropriate.
"Peterhead Development Partnership minutes and the latest six month report on regeneration are on the council's website for anyone to review if they are interested."