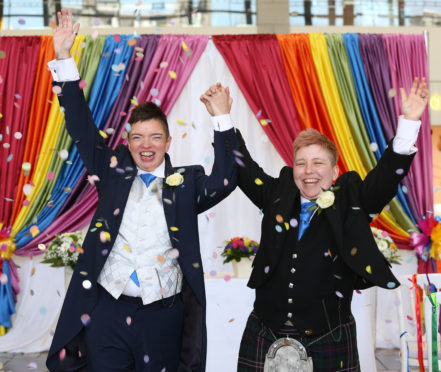 Aberdeen's Union Square become the first ever Scottish shopping centre to host a same-sex wedding as it played a part in the historic Grampian Pride event.
Nydine Park, 29, and Joy McIntosh,44, originally met after working at the same company and reconnected years later.
Ms Park said: "Four years ago we ended up bumping into each other in a shop and we just spent more and more time together before Joy proposed.
"The parade was fantastic. I never imagined there would be so many people there. Knowing we would get married right after was nervewracking, but we were there for each other."
After taking part in the Pride parade, the pair rushed to get ready in Union Square's pop-up altar.
A registrar from Aberdeen Registry Office conducted the ceremony, with the couple surrounded by friends and family, as well as people going about their shopping, in Union Square.
The pair exchange personalised vows, as well as taking part in a romantic hand-fasting ceremony.
Deejay Bullock, co-chair of Grampian Pride said: "It's fantastic to have Union Square's support for our first ever Grampian Pride and even better to have Joy and Nydine mark the day by celebrating their love in such a unique and special way".
A Union Square spokesperson said: "We want to congratulate the happy couple and wish them a lifetime of love and happiness".
"This inaugural Grampian Pride is a significant milestone for Aberdeen and the Grampian community. We wanted to show our support for the LGBT+ community and what better way to make this Pride a memorable one than a declaration of love is love".
For Ms McIntosh, the change in perceptions of LGBT people in the north-east has been substantial in her life.
She said: "I grew up in Elgin in the 1980s and I never thought I could come out. I finally did when I moved to Aberdeen. Today you still get homophobic comments, but it is better than it was."
The newlyweds, along with 20 of their friends and family, enjoyed a champagne reception in Pizza Express then continued their celebrations at Cheerz Bar later in the night after visiting the Grampian Pride Village.
Ms McIntosh said: "We had been thinking about getting married for a while. We read about the opportunity at Union Square and the fact it was designed to celebrate Grampian Pride made us take the plunge.
"The service itself was exactly what we had hoped for and my now wife Nydine looked so beautiful as she walked down the aisle".
The happy couple will embark on a honeymoon after finalising a location.