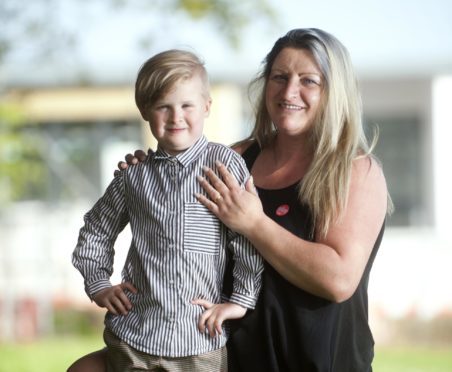 A mum has told how her little girl spent six years in agony – after doctors failed to spot the signs that her brain was being pulled out of her skull and into her spine.
Little Alice Cooper was in so much pain she cried herself to sleep at night and developed her own coping strategies to get through the day.
Just sneezing and coughing was excruciating for the seven-year-old.
Devoted mum Emma begged doctors to give Alice a scan, after suspecting something was wrong with her neck when she was just eight-weeks-old.
But despite repeated trips to her GP over the next six years, she was continually told Alice's pain was muscular and to give her Ibuprofen or "rub baby oil on it".
Mrs Cooper, from Blackburn, Aberdeenshire, was even told by one doctor it was "irresponsible parenting to push for an MRI (scan) when there is absolutely nothing wrong with your daughter".
But just four days after the scan was finally done last summer, the 41-year-old was told Alice needed major brain surgery within six months – or she would lose the use of her arms and legs.
Now, just nine months after surgeons removed part of her skull and detached the bottom part of her brain from the spinal cord in a risky operation, Alice, is enjoying life pain free.
Mrs Cooper is now sharing her story in an effort to raise awareness of Alice's condition, Ciari 1 malformation, to help doctors and families recognise the signs of the rare anomaly.
"When I think about what she went through for so long it makes me really angry," she said.
"It's so rare it's not the sort of thing a GP would know to look for. But it was just one fob off after another."
By the time Alice had her surgery last September, more than an inch of her brain was outside her skull.
Mrs Cooper said the condition caused the lower part of the cerebellum, the part of the brain which controls balance, to attach itself to the spinal cord too early.
This meant that as she grew the brain was pulled out of the skull and into the top of the spinal canal.
Mrs Cooper said: "Four days after her MRI, I got a call saying it was so severe that if she didn't have the operation within six months she would lose the use of her legs and arms and it would be irreversible."
Surgeons removed a 2.2cm sq piece of Alice's skull, as well as one of her vertebrae in her spine. They also had to "laser off" the cerebellar tonsils, the lower part of the cerebellum, from the spinal cord to alleviate pressure.
Her parents know that there is a chance that Alice may need future surgery if the cerebellar tonsils re-attach to the spinal cord.
But the family is hopeful that it is a one-off and, after a four-month recovery, Alice is enjoying being back at school.