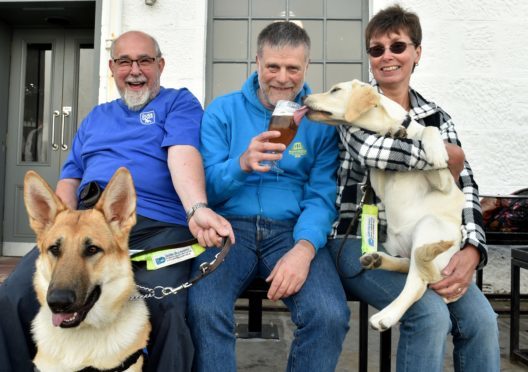 The man behind an Aberdeenshire beer festival has donated thousands of pounds towards training guide dogs as a tribute to his late mother.
Robert Lindsay, organiser of the Midsummer Beer Happening in Stonehaven, last night handed over £10,000 to the town's branch of the Guide Dogs charity.
Each year, proceeds from the festival are donated to local causes.
And the most recent donation was warmly welcomed by local volunteers – and the two energetic puppies, Beryl and Chad, they brought along to show how the cash will be spent.
In recognition of the funding boost, a future guide dog pup will be named Summer.
Mr Lindsay said £1,000 worth of the donation came from a legacy fund left by his mum, Mary Lindsay, who was registered blind.
He said: "My mother didn't have a guide dog, but was registered blind and could understand how valuable they are.
"She was always instrumental in helping at the beer festival too, so this felt like a fitting tribute to her."
In addition to that and the £8,800 raised at last year's beer festival, the other £200 came from the Stonehaven and District Lions Club.
Community fundraising development manager for Guide Dogs, Andrea Williams, described the importance of Mr Lindsay's pledge.
She said: "It costs £56,000 to train just one guide dog, when you take into account all the work that goes into getting them ready."
As part of the naming deal, Summer the puppy will visit Mr Lindsay at 17 weeks old and again before entering the final stages of its training.