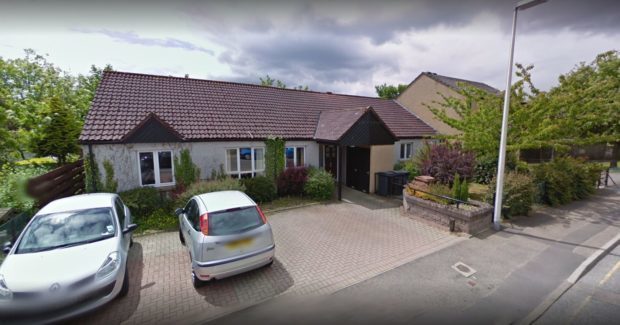 An Aberdeen support worker has been struck off after leaving a vulnerable woman on the toilet for 40 minutes while she went for a cigarette.
Melissa Black was sacked from the Cornerstone Community Care Centre on Inchbrae Terrace when the allegations first came to light two years ago.
And now, following a fitness-to-practise hearing before her professional watchdog, she has been struck off.
During the Scottish Social Services Council (SSSC) hearing, the panel heard that Ms Black left a resident alone on the toilet for 40 minutes, failing to regularly check on her.
A former colleague told the panel that she "recalled being concerned at the length of time the resident had been there, and asked Ms Black several times to move her".
A report published yesterday added: "She recalled Ms Black left for a cigarette break of at least 10 minutes before assisting the resident off the toilet.
"She considered that, by then, the resident had been there for about 40 minutes.
"As far as she was aware, Ms Black had not checked on her during that time.
"She stated that she had offered several times to assist but Ms Black had said she would see to it."
The panel heard that it was 8.30am when the woman was assisted to the toilet using a special chair, and that she remained there until "some time after 9.10am".
It later emerged that, in April and May 2016, Ms Black left two vulnerable people "alone on the toilet" for about two hours on each occasion.
Written witness accounts were considered by the panel, one of which stated that "Ms Black had admitted that the residents were left on the toilet for two hours and said that she was sorry".
The disgraced worker's former colleague also described a row which occurred between the two when they were both employed at Inchbrae Terrace.
The woman, who is now a student, said they "initially" got on well but that an argument about work sparked a permanent falling-out.
The report stated: "She said Ms Black tended to wander off and leave her to deal with the residents alone.
"She stated she left the unit for a while and when she came back, Ms Black and she seemed to get off on the wrong foot.
"She recalled a disagreement Ms Black and she had regarding the use of prescription incontinence pads, and indicated that she tried to make up but without success.
Ms Black was also accused of failing to brush another resident's teeth that June, and shouting at them.
And it was claimed that in May 2016, she failed to sign a record which she had completed regarding bruising on a resident.
The SSSC told Ms Black that a removal order was "the only sanction" that would safeguard against any future misconduct.
The report stated: "The panel could not be satisfied that your behaviour would not be repeated.
"If repeated, it would have a serious effect on service users.
"Further, a repetition would adversely affect the integrity of the social services profession."
A spokeswoman for Cornerstone added: "Following an internal investigation in August 2016, Ms Black was no longer employed by Cornerstone."