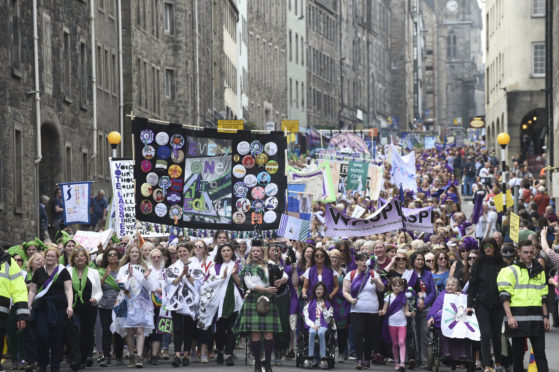 Thousands of people marched through the streets of Edinburgh yesterday to create a living piece of art to mark 100 years since women were granted the vote.
Dubbed "processions", the march featured hundreds of handmade banners, period costumes and purple, white and green sashes – the colours of the suffragette movement.
A group of women from Aberdeen travelled to the capital to make their voices heard, mimicking a journey made by north-east suffragettes decades ago.
The Aberdeen Women Against State Pension Inequality (Waspi) sent 13 members to the march and they were joined by counterparts from Merkinch, Ullapool and Moray.
Each group waved a unique banner created by a local artist, and the Aberdeen branch worked with Natalie Kerr to devise one.
Processions Scotland co-ordinator Jean Cameron said: "This was a once in a lifetime experience, highlighting the wonderful diversity of women from across Scotland and all over the world.
"The streets of Scotland's capital provided the perfect backdrop to this celebration of women's achievement in the past, present and future and we're thrilled with how it went."
First Minister Nicola Sturgeon called the event a "spectacular tribute."
Aberdeen Waspi members have been campaigning against changes to the state pension age imposed on women born in the 1950s.
According to campaigners, the sudden pension age increase has created financial hardship for hundreds of thousands of women who now don't have enough time to make alternative plans.
The groups waved Waspi flags to raise awareness of their crusade as they were led through Edinburgh by a female piper.
Moray MSP, Richard Lochhead, was "delighted" to wave off marchers from Elgin train station on Saturday.
He said: "It was great to see the north-east represented at the procession and the women and girls who travelled to Edinburgh commemorated what is a milestone in our democracy.
"In today's world where we have a female First Minister in Scotland and a female Prime Minister in the UK Government, it is important to remember that it's only a century since women won the right to vote."