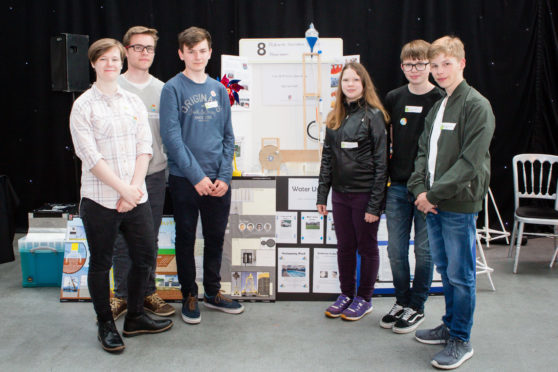 Pupils from the Robert Gordon's College in Aberdeen have won a national engineering challenge.
Clerkhill Primary in Peterhead also took part in the event, which involved 22 schols from across Scotland.
Organised by the Young Engineers and Science Clubs Scotland (YESC), the challenge is designed to get youngsters excited about science, technology, engineeering and maths (Stem) subjects.
Students were tasked with designing and building a water pump and pipeline that would not waste a single drop of water.
The competition took place at the Glasgow Science Centre as part of YESC's annual Celebration of STEM event.
Wave, a national water retailer, was one of 22 industry partners that attended the event and helped devise the water pump challenge.
Tony March, Wave's public sector manager, praised the students for getting involved.
He said: "Congratulations to the pupils from Clerkhill Primary and Robert Gordon's College on undertaking our water related Stem challenge.
"This event has been a great opportunity to show these talented young people the wide variety of careers open to those with Stem qualifications and get them excited about their future job prospects.
"We're proud to have supported this challenge and inspire the next generation of STEM recruits."