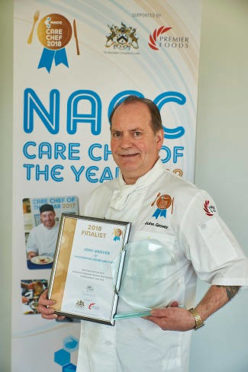 If at first you don't succeed, try, try and try again.
That was the lesson behind a north-east chef's achievement in being named Chef of the Year.
John Grover, who works at Auchtercrag House in Ellon, fought off competition from 11 other finalists to be crowned the National Association of Care Catering's Chef of the Year 2018.
The victory was cheered by residents at Auchtercrag who can now boast of eating the best food of all care homes across the UK.
Mr Grover pit his culinary wits against the cream of care home cooking at Barking & Dagenham College's Technical Skills Academy in London last Wednesday.
After 90 minutes of intense competition, he claimed the title with his winning menu of lamb with black pudding and herbs followed by chocolate and raspberry fondant cheesecake, with caramel port cream.
The judges were impressed with his well-presented, unique dishes that showed inventive use of classic ingredients, featured varied textures. They also highlighted his excellent use of inexpensive produce.
From a nutritional perspective, his knowledge and understanding of the needs of care home residents was praised.
Mr Grover said: "I'm absolutely elated to have won.
"This is the fourth year I've entered the competition and my second time in the final. It's been a long time coming."
The NACC Care Chef of the Year competition aims to spotlight the care catering sector and the talented, qualified chefs operating within it.
Entrants are challenged to create a nutritionally-balanced, two-course menu that is suitable for service users in a care setting.
The combined food cost for both courses must be no more that £2.25 per head based on four portions and is to be produced in just 90 minutes.