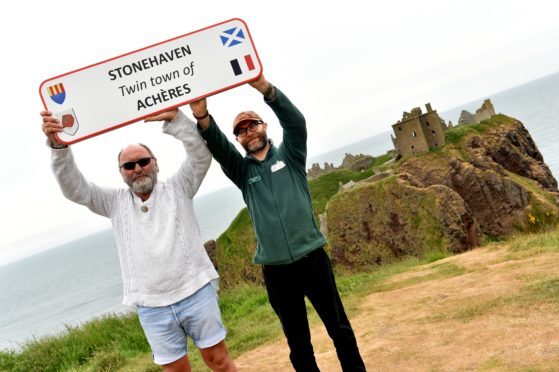 Stonehaven could set up global partnerships with three more countries after being twinned for the first time in its history.
Following the signing of its first historic agreement with French town Acheres last month, the Mearns community now believes it is ready for more cultural growth.
Towns in Germany, Portugal and Japan are now being considered by the newly formed Stonehaven Twinning Group led by community stalwart Phil Mills-Bishop.
Stonehaven hopes to boost tourism with new "French connection" as town prepares to sign first twinning agreement
Last night Mr Mills-Bishop said they were "in the process" of developing new opportunities and added: "We will develop our twinning links not just with Acheres but also others such as Grosskrotzenburg in Germany and Amarante in Portugal – who have already contacted me.
"Towns in Japan are also being approached.
"Acheres was just the beginning – our main priority is strengthening ties and spreading the word about Stonehaven.
"We have set up this new steering group with that being the main aim."
A delegation from Acheres will visit Stonehaven next month whilst the town's annual Folk Festival is underway.
The twinning agreement came about when the deputy mayoress of Acheres visited Stonehaven with her husband while on holiday.
Mr Mills-Bishop said the newly formed Stonehaven Twinning Group will have a "legal structure and governance" he added: "It may be a Company Ltd by Guarantee or SCIO or other social enterprise structure such as Company in the Community (CIC).
"But whatever the set-up its raison d'etra will be the promotion of Twinning with Stonehaven out with the hinterland."
Praising the "collective hard work" which culminated in the first twinning agreement, Mr Mills-Bishop said: "I want to be clear that the Acheres Twinning initiative and the 18 months of development – hard work and support has always been a collective effort.
"We have had fantastic cooperation from local groups, clubs, schools, agencies and businesses particularly the Stonehaven Business Association and private local landowners and estate developers.
"Very little to no actual help either in kind or (be anything) other has been given by either Aberdeenshire Council, or the community council."
Members of the new twinning group include representatives from Dunecht Estates, Ury Estate, Mackie Academy FP RFC, Stonehaven Tennis Club, Stonehaven Judo Club and Graingers delicatessen.
Change at the top for Stonehaven Community Council
Phil Mills-Bishop has been replaced as chairman of Stonehaven Community Council by Raymond Christie.
Mr Christie was voted in with eight votes against seven at the AGM on Tuesday night.
Last night Mr Mills-Bishop, who had two years at the helm, said: "I am proud of what I have achieved – with two motions of support and commemoration from the Scottish Parliament for the work on defibrillators and the twinning with Acheres near Paris – all done at a time of internal and external pressures."
Newly-elected chairman Raymond Christie last night said: "I am looking forward to stimulating interest in the community council ahead of elections next year – it's important for the whole community to get involved in it – that's what I want to do over the next year."