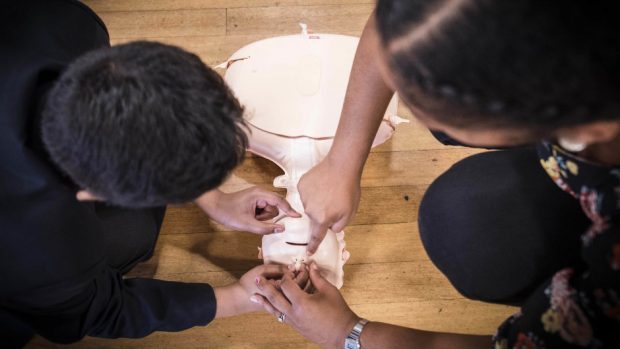 Life-saving CPR techniques could be taught to school pupils and defibrillators installed in public buildings under new Aberdeen council plans.
Council co-leader Douglas Lumsden will move at Tuesday's city growth committee to invite the British Heart Foundation (BHF) to discuss how to implement the schools scheme and to set aside £5,000.
He will also ask for a report to be prepared on the registration of defibrillators in the council's building estate.
CPR, or cardiopulmonary resuscitation, is a proven life-saving skill which can help keep blood pumping while someone is suffering from a heart attack.
The campaign to bring the training into schools has been backed by Aberdeen Central MSP Kevin Stewart – who wrote to council chief executive Angela Scott on the issue.
David McColgan, senior policy and public affairs manager for BHF Scotland hailed the move as showing "vision and bravery".
He said: "Aberdeen City Council's decision means that around 1,600 school pupils will learn lifesaving CPR skills each academic year, delivering a City of Lifesavers for years to come. However, if the remaining local authorities in Scotland were to follow Aberdeen and Glasgow's approach, we would see around 50,000 pupils trained each year, delivering a nation of lifesavers, and establishing Scotland as a world leader in CPR.
"Aberdeen City Council has shown that with strong leadership, vision and bravery it is possible for Scotland to stand on the world stage, and we look forward to working together to ensure that Aberdeen benefits from a city of lifesavers for years to come"
Mr Lumsden said: "CPR is a really important life skill that everyone should have.
"It is fantastic to have this collaboration with the BHF. We will have to put in some rescource as well but if this saves even a single life it will be money well spent."