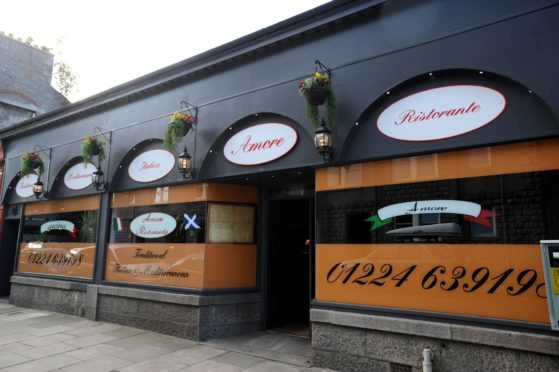 A number of eating places around Aberdeen have been ordered to improve their hygiene standards by inspectors from the city council.
The authority's food hygiene monitors have found faults with venues serving meals and snacks across the city in recent months.
One such venue was De Ja Vu and Shakes N Screams on Rose Street, which was inspected on March 5.
The shops, which are part of one company, were warned they had a "pest problem" after beetles and woodlice were found in a back kitchen.
The shop's owner Roy Duncan said: "Immediately after the inspection, we called in a pest controller and that problem has now gone.
"I have been running food businesses for 17 years, and my standards have always been high."
Mi Amore on Huntly Street was visited by inspectors on March 7.
A deep clean was recommended following the discovery of rust in a microwave and other issues.
A spokesman for the restaurant said: "We cleaned the area the inspector had identified, we replaced the microwave and we cleaned the dry goods store.
"The council inspector returned shortly afterwards and found no concerns, except for some minor problems related to a fridge which we discussed."
The Fittie Bar on Wellington Street was also inspected on March 13.
A report by the hygiene monitors said an undated tub of skirlie was found, in addition to an opened container of cheese slices, which were both disposed of during the inspection.
A spokesman for the bar said: "Although I find the inspections rewarding and they help maintain the standard required, I do feel sometimes, as a small premises, some logic needs to be applied.
"The building has been in existence since 1821, and every effort is made to keep the kitchen area modern and clean."
An inspection of Rishi's Indian Aroma restaurant on George Street on April 25 found dirty conditions on door handles, light switches, hobs, sinks and taps.
A spokesman for the restaurant said: "We rectified all the issues raised right after the inspection and before the second inspection, which found no problems."
The monitors also investigated Chopstix at the Trinity Centre on March 1.
The report said staff were seen not changing disposable gloves as often as required, and sometimes not washing their hands.