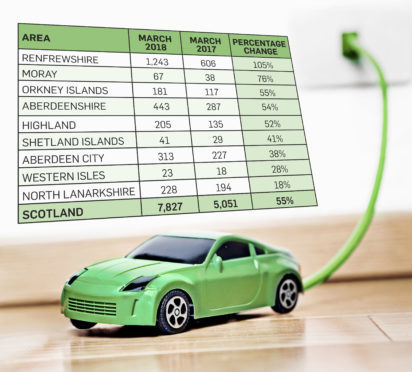 Parts of the north and north-east have been revealed to be among the worst areas in Scotland for the uptake of electric cars.
There were 7,827 ultra-low emission vehicles (ULEVs) registered to addresses north of the border in March – up 55% from the 5,051 recorded 12 months previously.
But the latest figures from the UK Government show that just two council areas in the region are keeping pace with this national average.
Moray had the fourth-largest increase of 76%, while Orkney matched the 55% benchmark with an increase to 181.
Aberdeenshire was close behind with a 54% jump to 443 vehicles – the fifth-largest ULEV population in Scotland.
While Aberdeen is also home to several hundred of these vehicles, with its number rising from 227 to 313 over the year, the increase of 38% means it is ranked 25th of the 32 council areas.
The Western Isles was the only local authority area in the north and north-east to fare worse, coming 29th with a 28% rise from 18 to 23.
Renfrewshire topped the table with a 105% increase from 606 to 1,243, while North Lanarkshire sits at the foot with an 18% jump to 228.
Electric cars make up just 0.3% of the 2,964,000 vehicles currently on the roads in Scotland, but the increase in numbers has been praised by the Energy Saving Trust.
Sandy Burgess, chief executive of the Scottish Motor Trade Association, said the figures fall in line with other trends across the industry.
He said: "I would certainly expect the market to rise in relation to new cars.
"Even if we take how many people are looking at electric cars online there has been an increase.
"It would appear that the numbers are rising albeit slowly but it is a big, big market."