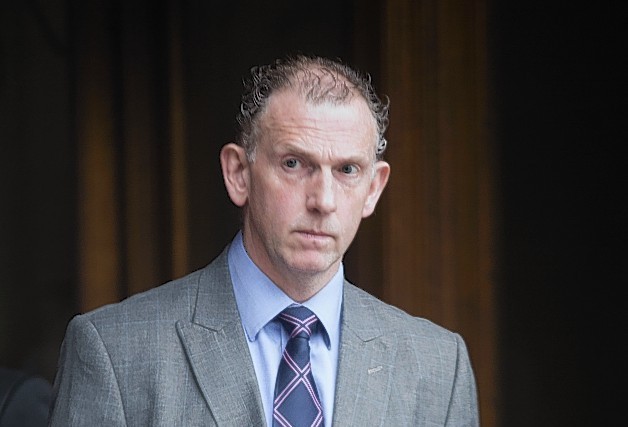 A sheriff showed mercy on a top firearms officer who drove dangerously across the north-east while responding to two 999 calls, saying she did not want the public to lose confidence in the emergency services.
Sheriff Annella Cowan said she was not prepared to disqualify John Kearney from driving – and gave him absolute discharge, meaning no further punishment would be imposed on the 49-year-old constable.
Kearney had admitted that, during the course of an hour, he sped along a 48-mile route, running red lights, driving down the wrong side of the road and narrowly avoiding another car as he drove the wrong way around the notorious Haudagain roundabout in Aberdeen.
However, Sheriff Cowan said members of the emergency services should be exempt from certain road traffic laws when responding to a serious risk to life.
Last night the decision was welcomed by David Hamilton, chairman of the Scottish Police Federation's north area committee, who said he was "perplexed" by the Crown's decision to even proceed with the prosecution.
He said officers at the centre of such allegations "endured months of stress".
Giving evidence during a special reasons hearing at Aberdeen Sheriff Court earlier this week, Kearney said he believed he was racing to two incidents which could had mirrored the Dunblane school massacre.
He said the severity of the reports he had received caused him to carry out a number of "dangerous" driving manoeuvres in order to "make progress".
Fiscal depute Sally McAuley told the hearing Kearney had not just carried out one unsafe move in one split second but had carried out a "course of conduct" of dangerous driving from Aberdeen to Elgin.
However, yesterday Sheriff Cowan said she had reached the decision not to punish him as she did not want the public to lose confidence in the ability of the emergency services to be able to respond to 999 calls efficiently without fear of prosecution.
She told the court that the manner of driving she had observed through CCTV footage did not, in her opinion, show anything which was unusual for an emergency vehicle on the way to a serious incident.
The sheriff added that although the driving described in the charge Kearney admitted would normally constitute "dangerous", the emergency services should be exempt from certain road traffic laws when there was serious risk of life.
Mr Hamilton applauded the decision and said he believed the public would agree.
"If you are being attacked, having a heart attack or are trapped in a burning house, you will want and need emergency services there quickly," he said.
"Police officers are obliged, expected and trained to respond to emergencies as safely as they possibly can, but regrettably, accidents will occasionally happen.
"I am genuinely perplexed as to why the Crown persist in these types of frankly pointless prosecutions and would question what outcome they hope to achieve as this is just the latest in a series of similarly disposed cases across the country.
"While the absolute discharge is welcome, the officers have endured months of stress and still face potential misconduct.
"I hope that the Crown will reflect on Sheriff Cowan's comments for existing and future cases."
Last night a spokeswoman for Police Scotland said the force noted the absolute discharge, adding that a report was now being prepared by professional standards officers for the consideration of the designated Deputy Chief Constable.
She added: "In line with good employment practice, it would be inappropriate for Police Scotland to make any further comment at this stage."