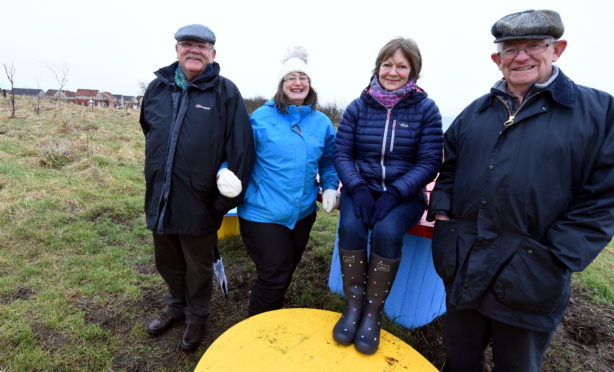 A community trust has officially taken ownership of a local forest after a successful fundraising initiative.
The Cove Woodland Trust bought 16 acres of land to transform it into a park for recreational use.
The forest area was named "The Cove Community Woodland" as a result of an online vote.
The trust had looked to raise £10,000 in funding to purchase the land which borders Cove, near Cove Crescent.
Local farmers offered the land to the group, who readily accepted the fundraising challenge to conserve it as a community-owned park for recreational use.
More than £13,000 was raised in just a month and the trust was able to put forward their plan to buy the nature reserve.
Trust member Brenda Reid said: "There has been lots of fundraising and we're all very excited. We want something that will benefit the wildlife, and have been planning a number of ideas based on a survey we conducted.
"We have an area getting marked up for a wildflower meadow, we really want to do something with the space that will benefit the wildlife.
"We will be planting trees in November and were thinking about creating an enclosed area for dogs who usually aren't able to be let off their leads."
The trust also intend to create "seed bombs" for local families and school children to disperse throughout the woodland.
By the time the seeds grow into flowers, the woodland is likely to be full with new, eco-friendly creations.
Mrs Reid added: "We've been lucky to get help from the local community. This has pulled people together and everyone is really excited."
Local councillor Alex Nicoll praised the efforts of the Cove community.
He said: "I would like to put on record my thanks to everyone who has been involved for all their hard work in bringing this to a successful conclusion.
It really has been a community effort and I am sure in the weeks and months ahead they will continue to help the trust in many ways to deliver on this fantastic project."