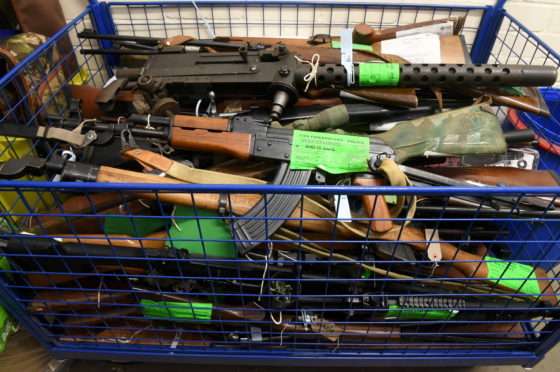 Scores of guns, pistols and rifles have been handed over to north-east police as part of an illegal firearm amnesty.
Almost 90 weapons were given to officers in the past 10 days as part of the force's national Gun Surrender campaign.
Police took in 48 air rifles, 11 air pistols, 12 shotguns, two rifles, two pistols and 12 imitation or deactivated firearms.
The north-east has about 13,000 firearm and shotgun certificate holders, the second highest total in Scotland.
Inspector Mark McLaughlin has been responsible for the division's firearms licensing department since November 2013.
He said: "One of the lesser known services the department provides is to arrange for the safe disposal and destruction of any guns or ammunition which come into police possession across the division.
"These items arrive from a variety of sources, primarily certificate holders who wish to dispose of legally held guns or ammunition which are no longer required. In less frequent circumstances, old unlicensed shotguns or guns taken as trophies of war occasionally come into the possession of the police.
"These guns are usually found by relatives of someone who may have died while tidying up their affairs and assuming every effort is made to hand these weapons over to police as soon as they come to light, members of the public should have no fear of prosecution.
"However, anyone who retains such an illegally held weapon or attempts to dispose of it unlawfully faces serious consequences and a mandatory jail term if the circumstances should come to police attention."
Air weapons have also required a certificate since January 2017 and anyone caught in possession without one faces the same penalties as those illegally holding a shotgun or rifle.
Insp McLaughlin added: "The campaign will provide amnesty from prosecution for any member of the public who wishes to take the opportunity to surrender any illegally held guns or ammunition, including airguns to the police for destruction. "The preferred station for surrendering these weapons is Queen Street, Aberdeen, but given the geographical size of the division, weapons can also be surrendered at any other staffed station in our area.
"Fortunately gun crime continues to be a rare occurrence in Scotland and the amnesty provides an opportunity for illegally held guns to be disposed of appropriately and without risk of falling into the hands of criminals."
The campaign runs until July 1.