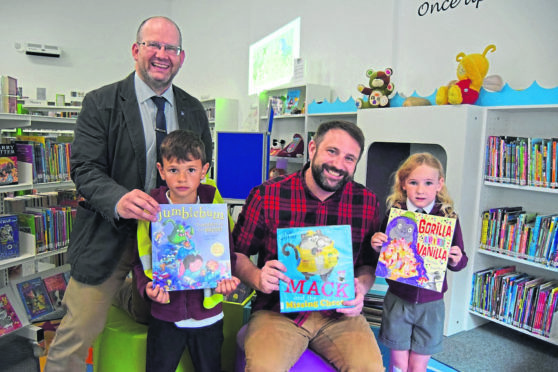 An award-winning Scottish author read popular stories from his books to children at the launch of a summer book challenge yesterday.
Young school pupils were entertained by Chae Strathie who has written interactive picture book Dear Dinosaur and Captain Firebeard's School for Pirates.
Banff Library celebrated the start of the Aberdeenshire Summer Reading Challenge event by welcoming a group of children from the local primary school.
Throughout the summer, pupils across Aberdeenshire are being encouraged to read as many books as they can, collecting stickers for each story and earning prizes.
Mr Strathie said: "The reading challenge is fantastic, anything that helps kids interact with libraries and pick up a book is great, especially in the summer holidays.
"There's a challenge so it makes it fun and makes them more likely to pick up a book.
"You can tell when the school and the teachers are engaging with reading for pleasure as well as education.
"Libraries are great for that as some kids don't have books at home and events like this are great for that."
Mr Strathie treated the pupils to readings of his books Jumblebum and Gorilla Loves Vanilla alongside his gorilla puppet Cheeky Charlie.
The youngsters were absorbed in the reading, joining in with sound effects and dance moves, and wiggling along to Mr Strathie's worm song.
Councillor Mark Findlater said: "It's brilliant to see things like this.
"At the end of the day reading is good for children and for parents as it helps with imagination as well as education.
"It's good to see bairns getting involved today and, hopefully even if it's sunny for the summer holidays children will find time to read books.
"People should remember we have wonderful facilities and that libraries are for all of the family."
The summer reading challenge runs until August 25 in all Aberdeenshire libraries.