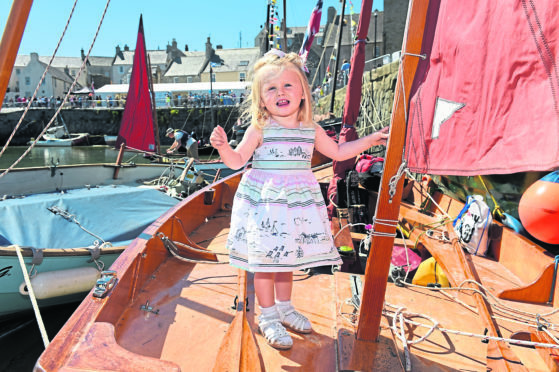 The population of a north-east town swelled at the weekend as thousands of visitors enjoyed one of the country's biggest nautical celebrations.
Organisers of the Scottish Traditional Boat Festival hailed it a huge success as it celebrated its 25th anniversary.
The two-day event is held in Portsoy's 17th century harbour and with the sun blazing in the sky above around 16,000 people attended.
The maritime extravaganza showcased the very of best of music, food, drink and crafts that the north-east has to offer.
Vessels of all shapes and sizes filled both the glistening water of the harbour and the open sea just outside of it.
Last night, Roger Goodyear, the festival's chairman, said it had been an "amazing" weekend and they were "blessed" with the sunshine.
He said: "We've been blessed with good weather on both days and certainly the numbers of visitors were visually looking very good.
"The weather is so important and this amazing weather is just a huge bonus.
"But yet again it is the folk of Portsoy and the surrounding area who make this happen and I hope a lot of the businesses and charities will benefit from it.
"It is a huge effort and a wonderful job by everybody."
About 40 classic boats docked at the quayside for the weekend.
Among the main draws were the 101-year-old White Wing, a 33ft Baldie and the Norwegian museum ship Haugefisk.
There was a chance to get close to the boats and meet the crews before and after a series of races along the coastline.
The festival also boasted a strong international contingent with representatives from Estonia and Latvia showcasing crafts, food, drink and dancing from their respective nations.
A delegation from Portsoy will travel to the Baltic countries next month as part of an exchange of ideas.
Mr Goodyear said: "The international visitors are absolutely delighted and amazed.
"We are very much looking forward to taking folk over to Latvia and Estonia sometime in August
"This was a major link-up we were able to make with Latvia and Estonia and certainly they have been delighted with what they have seen.
"People have been very, very interested in what they have brought to the festival.
"It is a really good exchange of international cultures."
Demonstrations and crafters set up stall right along the quayside offering food and a series of nautical-themed items.
Away from the harbour, Loch Soy played host to adventure sports for children with a climbing wall and a bicycle track on offer.
The show had been opened in style on Saturday morning when Portsoy's pipe band marched through the harbour area and was closed on Sunday with hymns.
Hazel Andrews, who works at the harbour at Porstoy Marble, said the weather meant they had plenty of customers.
She said: "It has been nice and sunny that has meant there are lots of people around with their
"We have been nice and busy, everyone has been in a good mood and they are enjoying.
"Everyone is just so grateful for the nice weather."
Work is already under way to get Portsoy ready for next year's Scottish Traditional Boat Festival.
It takes place on Saturday June 22 and Sunday 23.