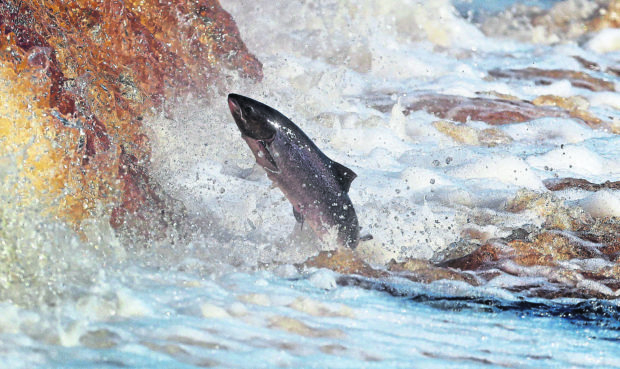 Europe's largest salmon research project has received a £300,000 funding boost from a north-east company.
Moray Offshore Windfarm East Ltd, known as Moray East, has donated the money to support the Missing Salmon Project.
The multi-agency fish tracking scheme was launched by the Atlantic Salmon Trust in April to discover why the species' numbers are dwindling.
The initial focus is on tracking juvenile Atlantic salmon, known as smolts, as they leave the Moray Firth's river network for the sea.
At the mouth of the Firth, a 65 mile-wide 'accoustic gateway' will be installed to track the fish.
Moray East, a 950MW offshore wind farm in the outer Moray Firth, gifted the cash to fund the project's essential equipment.
Atlantic Salmon Trust spokesman, Mark Bilsby said: "The tracking project in the Moray Firth will be the furthest that we have been able to follow the progress of young salmon and will greatly expand our understanding of smolt behaviour and survival in the freshwater and coastal environment.
"It will contribute to The Missing Salmon Project which aims to ensure that more fish survive their perilous journey.
"he information collected will give fishery managers and policy makers the information they need to help protect this iconic species.
"We welcome the opportunity to work with developers in the Moray Firth on salmon research and conservation and this is a significant contribution from the Moray Firth East towards the largest tracking project for salmon in Europe to date."
Moray East is one of the first sponsors and the project requires £1million by the end of 2018 to carry out the scheme.
The company's head of development, Sarah Pirie said: "Environmental sustainability is at the core of Moray East as a development to reduce greenhouse gas emissions, addressing issues such as climate change and rising sea temperatures.
"This project gives us the chance to take that one step further. The accumulation of environmental data in the Moray Firth was a major part of our pre-construction work.
"Now, we are supporting a highly ambitious project which will gather data to understand why salmon mortality has been increasing for decades; data which is necessary if that trend is to be reversed and species' future assured."
For more information or to donate to the cause visit www.crowdfunder.co.uk/themissingsalmonproject