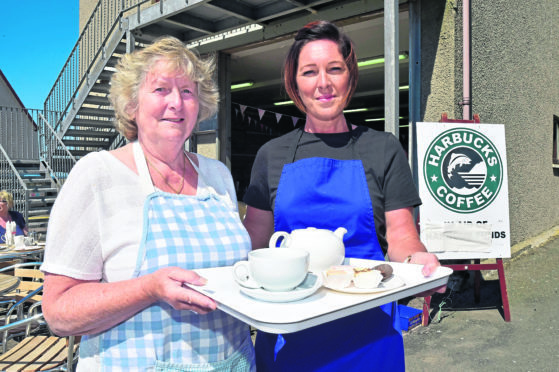 Women from an all-female rehab clinic are baking and serving treats in a north-east cafe to raise money towards helping others struggling with addiction.
Staff and residents from Teen Challenge North East Scotland's refuge centre for women battling addiction, Benaiah, near Mintlaw, are dishing up snacks in Harbucks Cafe in Gardenstown this week.
The money raised will help the organisation provide more people with its faith-based programme which aims to combat drug addiction.
Residents, staff and volunteers began running the cafe yesterday and will continue until Friday.
Senior support worker at Benaiah, Grace Donn said: "It helps our girls to integrate again as addiction is very antisocial.
"They engage and it gives them purpose as well as raising funds for us.
"We're extremely grateful to the Harbucks team for the opportunity – we'll be working hard and having a lot of fun with the people we'll meet.
"Our residents are contributing themselves which I think is good for their confidence."
Paul Beaton, support worker and communications coordinator, said: "This is the only centre in Scotland where mothers with children can go – often a mother has to put her child into care – so we offer a unique place for them.
"I think it's good for the residents to go and give something back to where they have been given help to recover their freedom.
"It's great for the whole team to go there and have fun and raise money for our work."