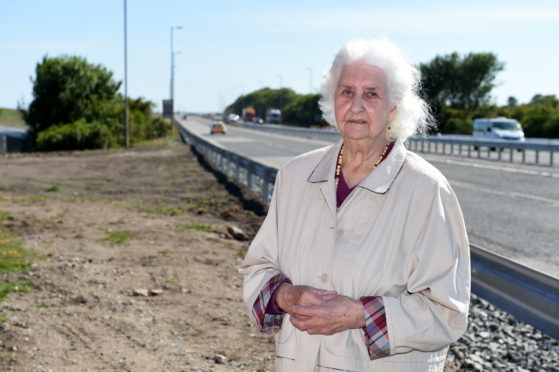 A north-east pensioner claims to have been left a virtual prisoner in her own home after her local bus stop was taken away as a result of the AWPR works.
Blackdog resident Edna Booth, 85, says she can no longer go to doctor appointments or go shopping after the village bus stop was moved half a mile from her home.
She said: "Living at Blackdog has completely changed over the last few weeks. The layout of the AWPR has drastically changed things.
"Our road as we used to know it has disappeared and our old bus stop has been demolished.
"I now have to walk about a mile over very rough ground resembling a ploughed field and a track covered by stones and long grass.
"The only alternative is to walk along the edge of the A90 main road, which would be dangerous – particularly during inclement weather.
"As an 85-year-old I have some difficulty walking and am unable to access the new bus stop across the distance and walking on the rough terrain.
"There is no bus coming into the village and I am now a prisoner in my own home with no access to busses for doctor appointments or shopping."
Mid-Formartine councillor Paul Johnston said he had written to the chief executive of Stagecoach suggesting a meeting but said he hadn't received a response.
"It's an unsustainable situation," said Mr Johnston.
"With the coming housing development, there's going to be 600 new homes in the village.
"There are inadequate services and nobody seems to be dealing with it.
"We need to know what they are going to do about busses into Blackdog and Balmedie, this is going to be a problem for a number of people like Edna.
"Everyone along the Ellon corridor route now has a problem."
Transport Scotland said councils and bus operators had been consulted on the best locations for new bus stops.
A spokesman said their positioning had been agreed for operational and safety reasons.
Stagecoach North Scotland, meanwhile, said: "We are working closely with Transport Scotland and the local authorities to ensure as much of the Buchan area as possible remains connected by bus during the AWPR works.
"We have had a number of shuttles in place maintaining connections for Blackdog and Foveran during the disruption and would like to apologise to any of our customers inconvenienced during these works.
"We are always happy to meet with any local councillors to discuss bus services in the area and have provided direct contact details to the Press and Journal to share with this councillor to allow us to arrange."