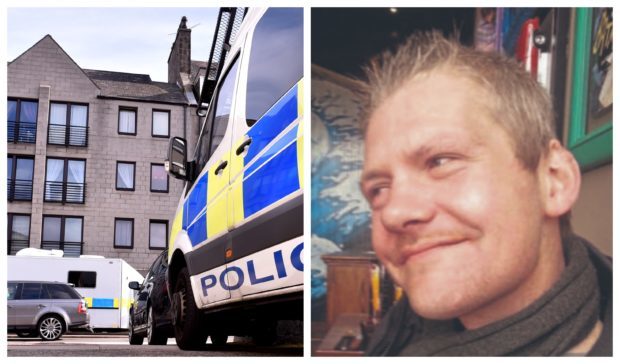 Marks on the face of a man who was found dead in his flat matched the sole of a murder accused's trainers, a court has heard.
Ryan Gibb, 32, and Cameron Laurie, 33, deny killing James Chadwick on the night of August 31 into September 1 2015.
As the trial at the High Court in Aberdeen entered a third week, evidence was given by forensic scientist Colum McCarthy, an expert in footwear marks.
Advocate depute James Keegan QC asked the witness to read from his report the conclusion reached in relation to marks on Mr Chadwick's face close to his left eye and left temple.
He said: "Both of the marks bore similar pattern elements to the heel and toe areas of the left and right training shoes attributed to Ryan Gibb.
"In our opinion either or both training shoes could be responsible for the marks."
The court heard similar conclusions were also reached for other marks on Mr Chadwick's face.
Mr Keegan asked: "Are we talking about the sole here?"
The witness confirmed he was.
Keith Stewart QC, representing Gibb, asked Mr McCarthy how many pairs of shoes there are with a similar pattern soles.
He replied: "That would be millions."
All the evidence has now been heard in the case and the closing statements are expected to be heard today.
Gibb and Laurie are alleged to have murdered Mr Chadwick, at his Holland Street flat, by striking him on the face, punching him, repeatedly striking him with a dog lead or similar and kicking and stamping on his head and body.
They are further accused of attempting to defeat the ends of justice.
The trial continues.