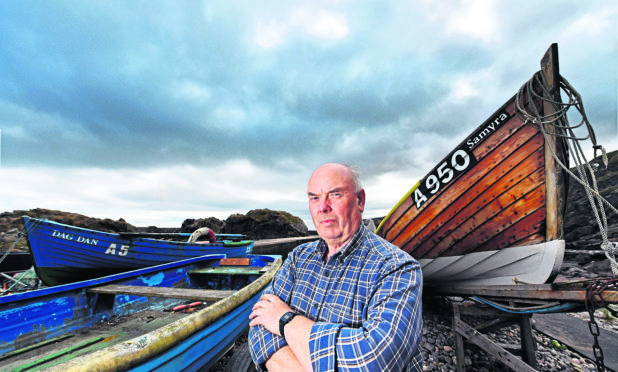 Fishermen told of their devastation yesterday after being ordered to remove their boats from a historic north-east harbour following a four year legal battle.
Boats have been moored at Cove Harbour "throughout living memory" with generations of fishing enthusiasts using the scenic spot on the outskirts of the city.
But they have been locked in a long-running wrangle with landowner Pralhad Kolhe who owns parts of the site.
The dispute ended up in court earlier this year and a sheriff has now ruled in favour of the plastic surgeon who bought the land in 2001.
In his judgement, Sheriff Miller has ordered the owners of the boats to remove them as they have "no right" to "occupy and use" the land owned by Mr Kolhe.
The fishermen now have 28 days to remove their small fleet of traditional vessels and equipment from the harbour.
In his judgment Sheriff Miller said fishing activities had been shown to have been carried on from the harbour "throughout living memory and beyond".
However, he found that the fishermen had stored boats there as past of a "local custom" with "no formal system" in place for the allocation of berths.
He said no permission had ever been sought by the locals for leaving their creel boats on Mr Kolhe's land.
However, the sheriff also ruled that large boulders which were placed at the entrance to the harbour in 2015 by Mr Kolhe to prevent vehicular access must now also be removed within 28 days as they were obstructing a public right of way.
Jim Adam, the leader of the Cove Fisherman's Association, said he was saddened by the news, but added he was pleased public access to the pier will be restored.
Mr Adam said: "It's really disappointing to the fishermen, especially considering the centuries-old heritage of fishing we have here in Cove.
"We've never managed to have any dialogue with Mr Kolhe at all. We've tried on several occasions, via his solicitors, to try and find an amicable solution but he has refused on every occasion to talk to us.
"He has never really explained exactly why he wants us out of here. None of the guys have ever had the chance to talk to the fellow.
"But at least it's good news for divers and kayakers and others who use the pier, because now they'll be able to gain access again."
Mr Kolhe declined to comment yesterday.
A brief history
Plastic surgeon Pralhad Kolhe bought his home, The Watch House, which overlooks the coastal site in 1992 and acquired further land, including the harbour, almost 10 years later.
He made his first request for the small boats to be removed from the harbour four years ago, but a group of about 10 traditional fishermen refused to leave – despite threats of legal action.
In response, Mr Kolhe erected a sign stating the harbour was private property.
In 2015, large boulders and other obstructions were placed across the pier, blocking access to vehicles and making it more difficult for the fishermen to properly use their boats.
Thousands of people signed a petition against the actions of Mr Kolhe, and a crowdfunder raised hundreds of pounds for the fishermen's legal battle, which was launched in 2016.
The harbour has existed in more or less its current form since 1877, however fishermen in Cove have used the area to harvest the riches of the North Sea for centuries.